COVID-19 - APPOINTMENTS AND PROCEDURES
Your health and safety is still our top priority. Appointments are available as video visits, phone calls or in-person visits as needed, with the same safe, world-class care you expect.
We provide you with more options for prostate cancer treatment than any other facility in the West. Our team includes the region's most experienced specialists in primary diagnosis and recurrence of prostate cancer.
Your treatment is managed by a team of specialists from multiple disciplines, including urology, radiation medicine and medical oncology. You also have the full support of nurse navigators, social workers, rehabilitation experts and our Cancer Center staff.

Prostate cancer is the 2nd leading cause of cancer death in American men

About 1 in 9 men will be diagnosed with prostate cancer during their lifetime

Reduce your risk: Exercise, maintain a healthy weight and eat fruits and vegetables daily
Why Choose Us for Prostate Cancer Care
Prostate cancer specialists: Because our team is subspecialized in prostate cancer, you get the most comprehensive, most personalized care plan available.
Unparalleled in proton therapy: We've treated over 10,000 prostate cancer patients using proton therapy — more than any other center in the world. 
Leaders in robotic surgery: Our surgeons perform more minimally-invasive robotic surgeries each year than those at any other teaching hospital in the West. 
State-of-the-art tech: As the largest urology group in the region, we offer you access to the most advanced technology available.
Clinical trials: You have access to many clinical trials for prostate cancer, which may offer potential new treatments.
---
Read: Habits brought on by COVID-19 pandemic may increase men's risk for prostate cancer.
---
What Our Patients are Saying
"When I was diagnosed with prostate cancer in February 2014, I was shocked. I didn't have any symptoms; I was in great shape; and suddenly, there was this blood test that said I had cancer! It's now been seven years since I was treated... Life is GREAT!"
Cancers and Conditions We Treat
Recent advances in genetics give us a better understanding of prostate cancer and its treatment options. Our oncologists, surgeons, nurses and caregivers will help you choose the right treatment option for you. 
Your care plan will depend on which type of prostate cancer you have. Prostate cancer types include:
Adenocarcinoma, the most common form of prostate cancer (at least 95% of cases). This type has a very high survival rate, especially when detected early through screening.
Transitional cell (or urothelial) carcinoma, which usually starts in cells in the urethra or bladder.
Small cell carcinoma, which is very rare and very aggressive.
Large cell carcinoma, which is extremely rare.
Treatment Options
Experts on your care team tailor treatment to your unique needs. We offer many types of treatment for prostate cancer, including the options below.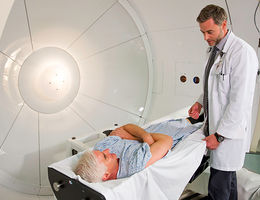 Proton therapy is an accurate, non-invasive and low-risk option for prostate cancer treatment.
Learn More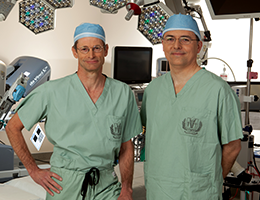 Experience significant advantages with small incisions and increased surgical precision.
Learn More
Nerve-sparing surgery
Hormone therapy treatment
Advanced robotic surgery options
Active surveillance for low-risk patients
Chemotherapy
Androgen deprivation therapy
Immunotherapy
Molecular targeted therapies
Prostate Cancer Screening
Prostate cancer screening can save your life
The test most often used to screen for prostate cancer is called a prostate specific antigen (PSA) blood test. PSA tests are quick, easy and effective at detecting possible problems with the prostate, like cancer. While there are certain risks to screening, the benefits (like catching cancer early) can be lifesaving. If you're between 55 and 69 years old, talk to your doctor about prostate health and schedule a screening today.
---
Read: Five things men should know about prostate cancer.
---
Take the Next Step
If you're concerned about prostate cancer, looking for a second opinion or need treatment, our expert team is ready to help. To get started, call 800-78-CANCER or request more information.
Related Conditions & Treatments