Schedule Your Appointment
We make it easy to get quick access to the care you need. Schedule both in-person and online video appointments by calling your provider's office or using the options below.
During the COVID-19 pandemic, it's still safe to come in for care. Delaying your care, however, is not safe. Learn more about the strict safety measures in place at our hospitals and clinics.
Urgent and Emergency Care
Urgent care is here when you need care for non-life threatening conditions or acute illnesses. Walk-in services are available for everyone from kids to seniors.
Find a Location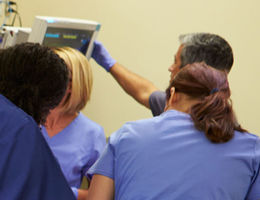 The Emergency Department is for potentially life threatening conditions. We're a Level 1 Adult and Pediatric Trauma receiving center, providing the highest levels of care for all patients.
Find a Location
Interpreter Services / Servicios de Traducción
To better serve our diverse community, we offer interpreter services free of charge for both patients and family. Learn more.
Para mejor servir a nuestra comunidad, ofrecemos servicios gratuitos de traducción para nuestros pacientes. Obtenga más información.