We are with you every step of the way on your healing journey with many services to help guide you. We offer a resource center to help you better understand cancer prevention, early detection, the latest treatment options, research and more.
Your Patient Journey
Our patient navigators support you as you go through diagnosis, treatment and recovery.
Patient navigators are registered nurses trained in oncology care to guide you through the challenges of dealing with cancer.
Your navigator will help you schedule your first appointment with a physician, and help you gather everything needed for your treatment.
Your navigator can connect you to support groups, financial navigators, nutritionists, counselors, and other support services.
Your navigator will guide you through your cancer journey — from prevention to recovery.
Your Care Team
Our wellness team supports you in your journey to become healthy in mind, body and spirit. Our team offers you invaluable support through a wide array of services:
Cancer Surgeons: A cancer surgeon may specialize in certain types of cancer or be a general surgeon. This will be the person who will remove or repair the cancerous area if surgery is decided to be the best option for you.
Medical Oncologist: A physician who specializes in diagnosing and treating cancer using chemotherapy, hormonal therapy, biological therapy and targeted therapy. A medical oncologist often is the main healthcare provider for someone who has cancer. A medical oncologist also gives supportive care and may coordinate treatment given by other specialists.
Oncology Pharmacist: Our on-site pharmacy is staffed with specialized oncology pharmacist who have a great deal of experience and knowledge in chemotherapy and other drugs.
Radiation Oncologist: This is a physician who specializes in radiation medicine and treatment. If radiation is needed, you will first meet with a radiation oncologist to determine the best treatment plan.
Pathologist: This physician identifies the cancer by studying cells and tissues under a microscope.
Radiologist: A member of the healthcare team who you may not see everyday is a radiologist. This doctor specializes in reading and interpreting x-rays.
Nurse Practitioner (NP): A registered nurse who has additional education and training in how to diagnose and treat disease. A nurse practitioner may manage the primary care of you and your family under the supervision of a physician.
Nurse Navigator: Our nurse navigators work with the other team members to guide you through the entire cancer treatment process. From your initial diagnosis to further testing to the different treatment options to the recovery process, they help coordinate your appointments and provide assistance with the other aspects of treatment. The nurse navigator will be your primary contact as you work your way through your treatment.
Resources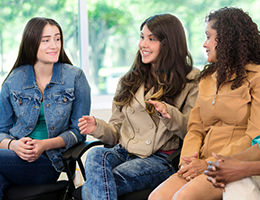 We offer support groups, classes and services to you throughout your treatment and into survivorship.
View Support Programs