Loma Linda University Health is now starting to carefully reopen our normal patient services over time, including procedures, inpatient surgeries and outpatient surgeries. We remain committed to providing you safe, exceptional care for any of your healthcare needs as we navigate this challenging time together.
While many of your healthcare appointments may be managed through telephone and video visits, you can feel safe when you need to come in for care. Strict safety measures are in place to help keep you safe during appointments at our hospitals and clinics.
---
Information and Resources
---
Safety Measures
The safety of our patients, employees and community is our highest priority as we begin to reopen normal patient services. Our hospitals and clinics are using appropriate infection prevention measures to help minimize the spread of COVID-19. Read about our safety measures below and learn more about safety and COVID-19 in our FAQ.
Temperature checks and screening questionnaires are being administered at the entry points into all of our facilities.
We are limiting visitors in our hospitals and clinics.
All visitors and staff are required to wear masks.
We have implemented appropriate cleaning procedures in our facilities.
Our providers are prepared with the necessary personal protective equipment (PPE) that is recommended for your care.
We are encouraging physical distancing and are staggering appointments so there is reduced occupancy in our waiting rooms.
Visiting the hospital is safe. Delaying your care isn't.

Hospitals have stricter safety measures than almost any other public place. If you need care, don't wait — schedule an appointment today.
Changes for Patients and Visitors
Patient appointments: In-person appointments are still safe and available as needed. To help keep you healthy at home, many appointments are also available as telephone or video visits. To schedule a video visit, call your provider's office, call us at 877-558-6248, or log in to MyChart,  For in-person appointments and treatments, call your provider's office.
Visitor restrictions: Visitors are no longer allowed in our adult hospitals. While visiting loved ones is an important part of healing, this restriction is critical for the safety of all patients and staff. We encourage you to keep in contact with loved ones via phone and video calls if possible. Humanitarian exceptions may be made by each unit's charge nurse.
Children's Hospital: Learn more about changes for Children's Hospital patients and visitors.
Emergency and urgent care: If you need medical attention, please do not hesitate to visit our hospitals. Strict safety measures are in place to help keep you safe during your visit, and avoiding care for serious issues puts your health at risk.
Reopening patient services: We're now starting a phased approach to reopen normal patient services, including procedures, inpatient surgeries and outpatient surgeries.
Elective surgeries: All elective, non-urgent procedures are being canceled and rescheduled for a later date.
Dentist appointments: Loma Linda University School of Dentistry's clinics are providing limited and emergency coverage only.
Advanced Urgent Care closure: Effective March 31, Loma Linda University Advanced Urgent Care is temporarily closed until further notice. Please view our other urgent care locations for access to care for you and your family.
Please note: these changes do not apply to Loma Linda University Medical Center – Murrieta.
Hospital Entrance Changes
Screening: Patients and visitors will be screened at the entrances of our hospitals and clinics. Contact your primary care physician before coming in if you have symptoms, have traveled outside the US in the past 14 days or have been in contact with someone diagnosed or quarantined for COVID-19.
Entrance closures: The front, or east, entrances of the University and Children's hospitals are closed until further notice.
Patient entrance and exit: Patient access and discharge will be through parking structure P3 by means of the grand hallway.
Valet service: Valet service is suspended until further notice.
Emergency Department entrance: The ED entrance is for emergency room patients only — no employee drop-offs are permitted through this entrance.
Employee parking and entrance: All Medical Center and Children's Hospital employees must continue parking in P2 and enter through the north breezeway entrance.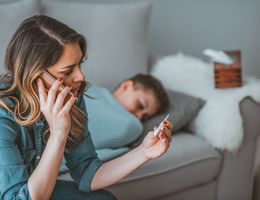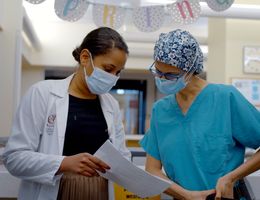 Answers to Your Coronavirus Questions
Is it safe to go to the hospital or see a doctor?
Yes. Hospitals are actually among the safest public places during COVID-19. That's because:
Hospital staff go through rigorous training for infection prevention. There are always measures in place to prevent the spread of diseases like COVID-19, and those measures are expanded significantly during any outbreak.
We screen every person that comes through our doors, and we quarantine anyone who has COVID-19. So, unlike at other public places, you're automatically separated from the people who have the highest risk of spreading infection.
Social distancing measures are stricter at hospitals than most other places. We've significantly reduced the number of visitors at our facilities, and many appointments have been moved online or rescheduled. We've also spread out patient appointments so fewer people are in a waiting room at any time.
There's no shortage of resources or space for your care. Our hospitals have more than enough beds, medical personnel and personal protective equipment (PPE) for both COVID-19 patients and anyone else who needs care.
Hospital cleaning standards are much higher than at most other public spaces. During COVID-19, we're cleaning and disinfecting even more and on a stricter schedule. Everyone, including providers, nurses and support staff, is helping keep the hospital clean and safe.
I'm worried for a loved one in the hospital. Can I visit?
Though we want you to be able to spend as much time as possible with a loved one who's facing a serious situation, we're not accepting most visitors at this time.
However, we recognize that certain situations are too difficult to bear without visiting. Very rare visitor exceptions may be made by the charge nurse (the nurse in charge of the area where your loved one is staying). Please keep in mind these exceptions are not made lightly and require very careful consideration. The charge nurse must consider not only the patient's unique circumstances, but also the health and safety of other patients and staff. Unfortunately, for these reasons and more, it's very unlikely that an exception will be able to be made for your visit.
Are children more at risk of infection or serious illness from COVID-19?
No. Most cases of COVID-19 currently involve adults. Though severe illness is uncommon for both healthy children and adults, your child may be more at risk if he or she has other health conditions.
Visit our Children's Hospital website to learn more about what COVID-19 means for kids, parents and expecting moms.
What should I do if I have symptoms?
Call your doctor if you're experiencing fever, cough or difficulty breathing and think you've been exposed to COVID-19. Your doctor will help you take any necessary precautions before coming in for care.
Should I get tested for COVID-19? How and where?
Since most people heal from COVID-19 at home, you don't necessarily need a test if you suspect you're infected. However, if you think that COVID-19 could cause more serious complications due to other illnesses or respiratory conditions, testing should be considered. Either way, you can call your primary care physician if you have non-life-threatening concerns or questions. At this time, a COVID-19 test is only available at our facilities if your physician requested one for you.
You may need to be tested when you come in for certain services or procedures, like labor and delivery. Your doctor will let you know if you need a test and what to do before, during and after your appointment.
If you have questions about getting tested, where to go or anything else, talk to your primary care physician or call us at 909-558-5545.
Learn more about COVID-19 testing cost, billing and insurance.
What should I do if my test is positive?
Unless you're having complications due to COVID-19, your next steps will most likely be to stay home and take care of yourself. If possible, stay isolated until all your symptoms resolve to prevent the disease from spreading.
What should I do if my test is negative?
A negative result doesn't necessarily mean you don't have COVID-19 — it may be too early for the disease to show up on a test. Keep up your social distancing and prevention measures.
COVID-19 may cause risks during certain procedures. You may have to be tested again if your provider says an upcoming procedure requires it.
What is an antibody test?
An antibody test looks for a specific molecule made by your immune system when it encounters coronavirus. If the molecule is found, you have already had COVID-19.
At this time, a COVID-19 antibody test is only available at our facilities if your physician requested one for you.
What do I do if I was exposed to someone who has now tested positive?
Please follow the CDC guidelines for home and self-decontamination. Follow social isolation guidelines to limit your exposure to others in the event that you are contagious. If you develop symptoms, contact your primary care provider or schedule a visit using MyChart.
How can I protect myself and loved ones?
The most effective ways to prevent infection are handwashing and limiting contact with others. View our coronavirus fact sheet (PDF) for more prevention tips.
Should I wear a facemask to prevent COVID-19 infection?
The CDC recommends wearing a cloth facemask in public areas where social distancing is difficult to maintain. Surgical masks and N-95 respirators are critical supplies and must continue to be reserved for healthcare workers.
Where can I learn more about COVID-19?