Coronavirus 2019 - Condition Information  
What is coronavirus disease 2019 (COVID-19)?
Coronavirus Disease 2019 (COVID-19) is a respiratory illness. It's caused by a coronavirus called 2019 novel coronavirus (2019-nCoV), originally found in Wuhan, China in late 2019.
Some things to know about coronavirus:
There are many types of coronaviruses; COVID-19 is the strain discovered in 2019. 
Coronaviruses are a common cause of bronchitis; sometimes, they cause pneumonia.
Symptoms can range from mild to severe respiratory illness.
These viruses are also found in some animals.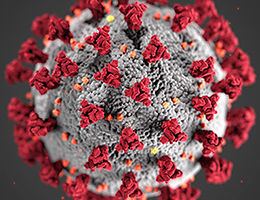 Learn more about coronavirus, what to do and what Loma Linda University Health is doing to keep our community safe.
Learn more
What are the symptoms of coronavirus disease 2019 (COVID-19)?
Symptoms may appear 2 to 14 days after contact with the virus. They can include: 
Fever
Coughing
Shortness of breath 
The symptoms of COVID-19 can be like other health conditions. If you have these symptoms, contact your provider. 
How is coronavirus disease 2019 (COVID-19) diagnosed?
If a Loma Linda University Health provider suspects you may have COVID-19, he or she will:
Call the county health department to discuss your symptoms.
Decide if you should be tested, either by nasal and throat swab or sputum culture.
Send the test to the Centers for Disease Control and Prevention (CDC) for processing.
Await your results, which should arrive within approximately 48 hours. 
While you are exhibiting symptoms, you will need to stay in an isolated hospital room. If you are not exhibiting symptoms, you will go home and stay away from others while awaiting the test results. During this time, you should follow all instructions from your healthcare provider. 
How is coronavirus disease 2019 (COVID-19) treated?
There is currently no medicine to treat the virus. Treatment is done to help your body while it fights the virus. This is known as supportive care. Supportive care may include:
Pain medicine. These include acetaminophen and ibuprofen. They are used to help ease pain and reduce fever.
Bed rest. This helps your body fight the illness.
Hospitalization. For severe illness, you may need to stay in the hospital to receive:

IV (intravenous) fluids. These are given through a vein to help keep your body hydrated.
Oxygen. Supplemental oxygen or ventilation with a breathing machine (ventilator) may be given. This is done to keep enough oxygen in your body.
What are possible complications of coronavirus disease 2019 (COVID-19)?
In many cases, this virus can cause infection (pneumonia) in both lungs. In some cases, this can cause death.
What can I do to prevent coronavirus disease 2019 (COVID-19)?
To help prevent spreading the infection, wash your hands often for a minimum of 20 seconds. When hand washing isn't possible, use an alcohol-based hand sanitizer. Because there is no vaccine yet, the best prevention is to not have contact with the virus. The CDC advises that people should not travel to the People's Republic of China right now for any reason that is not urgent.
If you are in an area with COVID-19:
Wash your hands often. Or use an alcohol-based hand sanitizer often.
Only touch your eyes, nose, or mouth with clean hands.
Don't have contact with people who are sick.
Follow local instructions about being in public. 
Stay away from markets that have live or dead animals.
Wash your hands after touching any animals. Don't touch animals that may be sick.
Avoid kissing, sharing drinks or sharing eating utensils with sick people.
Clean surfaces often with disinfectant.
If you were in an area with COVID-19 in the last 14 days:
Call your healthcare provider. He or she can talk with local health staff to see what action may be needed.
Follow all instructions from your provider.
Take your temperature every morning and evening for at least 14 days. This is to check for fever. Keep a record of the readings.
Keep watch for symptoms of the virus. Tell your provider right away if you have symptoms.
Next Steps
Follow prevention advice. Follow the steps here for preventing the spread of COVID-19, including handwashing and avoiding contact with sick people.
Call your provider with concerns. If you have recently traveled and have symptoms, call your provider or send a message through MyChart. Do not go to the doctor's office or emergency room until your provider instructs it.
Follow instructions closely. If you are diagnosed, follow the instructions of the healthcare staff closely in order to improve your own recovery and reduce the risk of spreading the virus to others.