Loma Linda University Health is home to more than 800 healthcare providers. Every day, the work they do has tremendous impact on the lives of our patients.
Our annual Physician Recognition Awards honor the physicians whose accomplishments exemplify the mission, values and goals of Loma Linda University Health.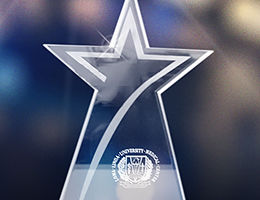 2019 Award Winners
Congratulations to the winners of the 2019 Loma Linda University Health Physician Recognition Awards.
Physician Recognition Award Categories
Education
It's our mission to continue the teaching and healing ministry of Jesus Christ. Physicians who teach, mentor or serve as role models in healthcare education truly exemplify that mission. The Physician Recognition Award for Education honors physicians who devote outstanding efforts in providing graduate medical education.
Customer Satisfaction
Everything we do is in service of our patients. Providing care that leaves people fully satisfied is a goal we strive toward every day. The Physician Recognition Award for Customer Satisfaction honors physicians whose service to both patients and colleagues defines exceptional.
Quality / Patient Safety
Our physicians are never satisfied with the status quo. Continual improvement of the techniques, treatments and technologies that serve our patients allows us to provide the most advanced, safest healthcare. The Physician Recognition Award for Quality / Patient Safety honors physicians who develop improvements that redefine our standard for patient care.
Leadership
Our core values — compassion, integrity, excellence, teamwork and wholeness — are embodied by each of our physicians. Leadership is the capacity to not only live these values but to inspire them in others. The Physician Recognition Award for Leadership honors physicians who dedicate themselves to building up those around them.
Whole Person Care
Whole person care means treating patients with respect and compassion while addressing their physical, mental and spiritual needs. This allows our physicians to connect with patients in powerful, impactful ways. The Physician Recognition Award for Whole Person Care honors physicians who provide compassionate care as exemplified by the Good Samaritan.
Professional Recognition
We strive to lead by example in the field of healthcare with the goal of improving patient care everywhere. Our physicians accomplish this via public service, academic publications, and national and international medical organizations. The Physician Recognition Award for Professional Recognition honors physicians who demonstrate that they are leaders in healthcare.