At Loma Linda University we strive to provide, to both physicians and patients, the highest quality radiological medical services available, ensuring that these services are provided with reasonable efficiency; to foster the continuation of quality care by the education of the physicians, patients and the community at large. We continually strive to improve the quality and efficiency of this health care service through dedicated medical research.
Our mission is to implement these goals of premium medical services, education, and research by the effective use of our professional staff and the competent and efficient handling of the technical equipment under the group's supervision.
Among the many investments made by the Department of Radiology at Loma Linda University Medical Center--in modern technology, medical expertise, and highly skilled technologists--the most important investments are those we place in people: the individuals we serve and who serve with us. Through them, we invest in the future.
The department's primary concern is for the quality of care we provide our patients. The sections within the Department of Radiology are uniquely dedicated to this goal. Each section is staffed by fully certified physicians, specialists, and subspecialists, as well as by physicists, technologists, and support personnel. Both our diagnostic imaging and interventional radiology staff make patient care their highest priority.
In addition, the Department of Radiology offers a structured, broad-based accredited residency training program in diagnostic radiology. Over 280,000 radiologic examinations a year are performed. The radiology group is exceptionally cohesive and enjoys excellent relationships with referring specialty practice groups within the university system. Residents are exposed to the academic and clinical practice of radiology, with the ultimate goal being the successful completion of boards and subsequent competent practice of radiology, whether in the private or the academic setting.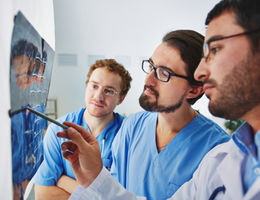 Diagnostic Radiology provides 3-D imaging, fluoroscopic procedures, and C-arm services for both adult and pediatric patients.
View Service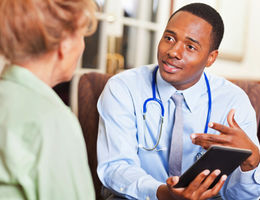 Interventional Radiology (IR) specializes in providing safe, compassionate, patient-centered care through the integration of clinical and image-based diagnosis and minimally invasive therapy.
View Service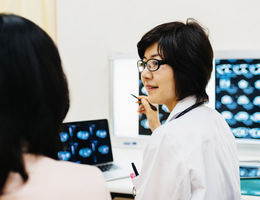 Neuroradiology focuses on the diagnosis of abnormalities of the brain, spine, head and neck.
View Service