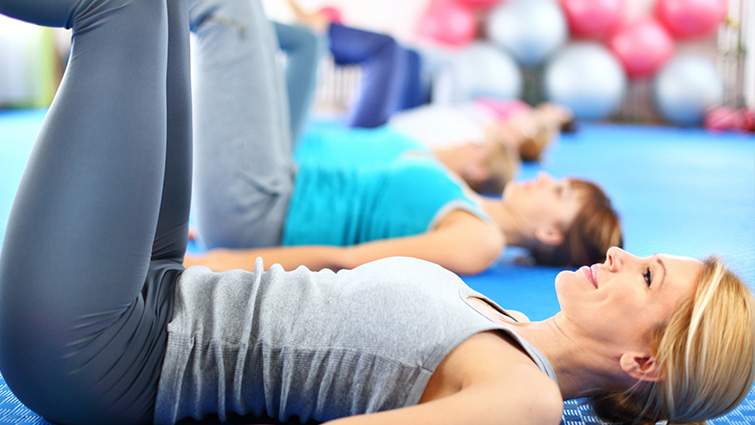 If you live with urinary dysfunction, painful intercourse or pain in the pelvic area, pelvic floor physical therapy may be the key to relief. In fact, it can be used to treat many disruptive, uncomfortable or painful conditions involving the pelvic floor. 
What is the pelvic floor? 
The pelvic floor is a group of ligaments, muscles, tendons, nerves and connective tissue that provides the base and support for the pelvic area. Both women and men have a pelvic floor. Some key details: 
In women, the pelvic floor holds the bladder in the front, uterus at the top, and the vagina and rectum in the back.
In men, the pelvic floor supports the bladder, bowel, urethra and rectum. 
The openings from these organs (the urethra from the bladder and the anus from the bowel) pass through the pelvic floor. 
In both men and women, the pelvic floor muscles attach to the pubic bone at the front and the tail bone at the back. 
Why is the pelvic floor important? 
For both men and women, the pelvic floor plays a key role in bladder and bowel control because it's responsible for "holding" those organs. It can also be important for both women and men's sexual health. For men, weakened pelvic floor muscles can contribute to erectile dysfunction; for women, tightened pelvic floor muscles can cause pain during intercourse. Both women and men can experience urinary dysfunction, including adult and teenage athletes who participate in high impact sports. 
Other Types of Pelvic Floor Dysfunction
Pelvic floor dysfunction can encompass a wide range of problems, including: 
Bladder pain
Constipation 
Frequent urination and urinary incontinence 
Groin, lower abdominal, pubic or tailbone pain 
Hip pain and other orthopedic issues 
Pain in the sacroiliac (SI) joint 
Pelvic asymmetry 
Pelvic organ prolapse (POP) 
Pubic or tailbone pain 
Urinary dysfunction because of high impact sports 
---
If you live with any of these conditions, our experts can help. To request a referral for pelvic floor physical therapy, contact your primary care provider, gynecologist or urologist.   
---
When can pelvic floor physical therapy help?
While some of these conditions may require surgery to repair structural defects, physical therapy can be a solution for others. 
"The best candidates are patients who are interested in conservative treatment options," said Sarah Sydnor, PT, WCS, a physical therapist at the Outpatient Rehabilitation Center who specializes in treating the pelvic floor. "They may not be surgical candidates for various reasons — or, they may not require or want immediate surgery." 
If you have pelvic floor symptoms that prevent you from enjoying life, you may wish to give physical therapy a try. 
50% of post-childbirth women will experience pelvic organ prolapse
69% of women with pelvic organ prolapse have multiple pelvic floor disorders

One-third of elite athletes report stress urinary incontinence
84% of patients with fecal incontinence have not told a physician

More than half of women with pelvic pain don't know how to seek treatment
71% report improvement in painful intercourse after physical therapy