Our curriculum prepares residents to be well-trained specialists in obstetrics and gynecology. Residents are immersed in settings where the need to address community healthcare disparities is readily apparent.
Curriculum Highlights
PGY-1 residents received early exposure to gynecologic surgery procedures with rotations in Benign Gynecology and Gyn-Oncology.
At our primary academic teaching hospital, residents experience a comprehensive approach to women's healthcare and all traditional OB-GYN specialties (REI, FPMRS, MFM and GYN-Oncology).
One quarter of residency training is spent addressing healthcare disparities in a county hospital setting at neighboring Riverside University Health System.
Continuity clinics are housed at the multidisciplinary SAC Health System in San Bernardino. This Federally Qualified Health System (FQHS) provides residents further opportunities for training in healthcare disparities.
Our state-of-the art simulation center provides hands-on simulation training for all OB-GYN residents in obstetric emergencies.
Monthly GYN simulations reinforce GYN technical skills and provide preparation for the Essentials in Minimally Invasive Gynecologic Surgery (EMIGS) exam.
Weekly resident didactics cover a wide variety of conferences, including grand rounds, stats conferences, journal clubs, research curriculum, resident and faculty-led lectures, and hands-on procedural training.
Program Curriculum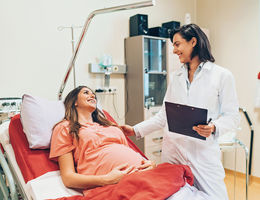 International Health Rotation
The OB-GYN Residency program now sends its residents to a one month rotation in Malawi, Africa. The Malamulo Adventist Hospital is a rural tertiary-care facility that provides a learning environment from which our residents will gain a deeper understanding of obstetrics and gynecology in the context of international health. Residents will practice and provide women's health care in a resource limited setting.
Some of the learning objectives for this rotation include:
Learn about the risks and benefits of operative versus non-operative treatment in a limited resource environment
Show compassion and integrity in the care of patients
Learn how to utilize resources wisely and effectively to treat the most patients
Tailor treatment plans for a resource challenged environment
Communicate with patients and their families in easily understood and culture-sensitive language
In the video below, 2017 OB-GYN resident graduates Malcolm Hardy and An Pham talk about their experiences while on this rotation.