Our family medicine residency curriculum is focused on the comprehensive professional development of residents while also emphasizing:
Curriculum Highlights
Full month of intern orientation: the FM interns spend the full month of July together before rotating on other services.
Residents work with a CIHS level 6 integrated behavioral health model.
Residents have the opportunity to participate in and obtain an IHI certificate in quality improvement (QI). QI teams research and inform future practices in patient care.
A number of subspecialty clinics are available: MAT addictions, HIV, sickle cell, travel, and women's health opportunities clinics and group visits.
SACHS clinic gives residents experience serving a diverse population of patients in an underserved community.
Categorical PGY-1
Your first year of residency (PGY-1) will consist primarily of inpatient rotations. You'll spend a half day each week in Family Medicine Clinic at SACHS. Every Friday afternoon, you'll have didactics.
4 weeks of Family Medicne Clinic/ Orientaiton
8 weeks of Obstetrics
4 weeks of Addiction Medicine
4 weeks of ICU
4 weeks of Out Patient Surgery
8 Weeks of Inpatient Pediatrics
4 Weeks of Nursery
8 Weeks of Family Medicine Inpatient Service
4 weeks of Community Medicine
4 weeks of Internal Medicine
Categorical PGY-2 through PGY-3
Starting your second year in our categorical program and going through your third, you'll focus on outpatient rotations. You'll also have opportunities in elective and procedure clinics.
You'll spend more time in Family Medicine Clinic at SACHS and continue Friday didactics.
PGY-2
4 weeks of Geriatrics
4 weeks of Cardiology
6 weeks of Family Medicine Clinic
6 weeks of Emergency Medicine
12 weeks of Family Medicine Inpatient Service
4 weeks of Outpatient Pediatrics Specialty Clinics
4 weeks of Palliative Care
4 weeks of Dermatology
4 weeks of Elective
PGY-3
4 weeks of Outpatient Pediatrics
4 weeks of Orthopedics
4 weeks of Sports Medicine
12 weeks of Family Medicine Clinic
2 weeks of Ophthalmology
2 weeks of ENT
2 weeks of Urology
4 weeks of Pediatric Emergency
12 weeks of Elective
8 weeks of Family Medicine Night Float/ Family Medicine Clinic
Didactics & Educational Activities
Family Medicine
Every week, half-day teaching conferences provide learning opportunities for family medicine residents on a wide variety of topics. Conferences include lectures from faculty, senior residents and guest attendings from other specialties.
To keep residents healthy, monthly support groups are integrated into the didactic schedule.
With the guidance of a faculty mentor, you will:
Lead two journal club presentations
Complete a scholarly activity project
Participate in quality improvement at our residency-affiliated FQHC, SAC Health System (SACHS).
Workshops held throughout the year allow interns and seniors to practice running code blues and managing obstetric emergencies and deliveries.
Program Curriculum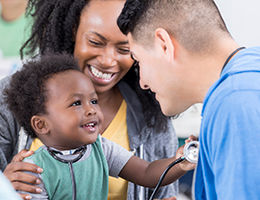 View the curriculum for the family medicine residency program.
View Curriculum
What Our Residents Are Saying
"I traveled all the way from Australia to be here, as Loma Linda's commitment to whole person care — that is, understanding and appreciating the person in all aspects, rather than simply treating diseases — resonated with me, and has continued to allow me to grow as a physician, and provide what I feel is optimal patient-centered care."