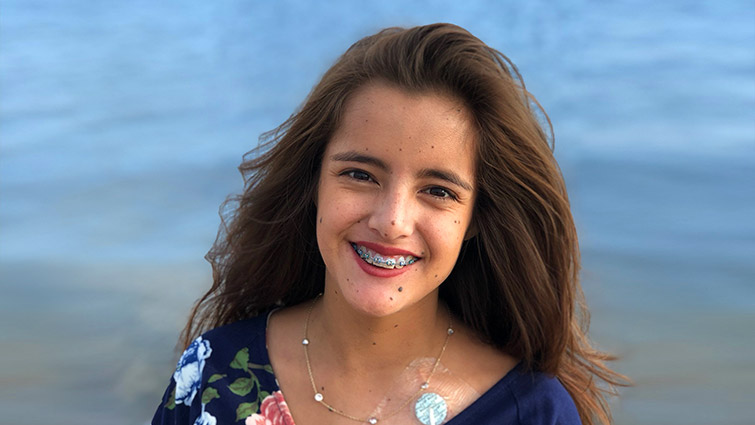 In a quiet corner of our Neonatal Intensive Care Unit lay a very little and very sick baby girl. Lexie Kingsley didn't know yet just how strong she'd have to be — and how long she'd have to wait — to make it home. Babies with her condition need critical care, sometimes for months, hooked up to machines and covered in wires, tubes and tape.
Lexie was born premature with a condition called gastroschisis. During pregnancy, most of her intestines floated outside her body in the womb, causing permanent damage. Her condition was more than Lexie's birth mother could endure and, eventually, Lexie was left fighting for her life — supported only by the care and love of her nurses and doctors. As fate would have it, though, that love would turn out to be more than enough.
A year and a half passed and Lexie was now a frequent visitor in the Pediatric Intensive Care Unit. She weighed only about half what she should. Charla, a nurse at the PICU, was assigned to take care of the tiny toddler. The very first day they met, both their lives changed forever. 
Charla was struck with how sick, scared and alone this baby girl was. "She wouldn't make eye contact with anyone," Charla recalls. "It was so evident that she needed family, siblings and specialized care — all things that I could provide." By the end of the day, Charla had arranged to take Lexie home. Not long after, the adoption was made official — Lexie had found her family.
Sixteen years later, Lexie is far from that scared and alone little girl in the hospital. She's still dealing with the damage gastroschisis caused, but she doesn't let that slow her down. She's outdoorsy. She loves animals and gardening. She's full of smiles. And, as a junior in high school, she's starting to chase her dreams. "My goal is to become a neonatal intensive care unit nurse at Loma Linda University Children's Hospital," Lexie said. Her hope is to care for patients just like her mom cared for her. 
"Loma Linda is what brought my mom and me together," says Lexie. "I was born at Children's Hospital, and we met at Children's Hospital. When I'm sick, I'm admitted to Children's Hospital… we trust this hospital and the doctors and nurses who take care of me."
Care for the Sickest Children
Lexie will have plenty of opportunities to share her love through patient care when she becomes a nurse here. Our Neonatal Intensive Care Unit is Southern California's largest Level 4 NICU — the highest level of care available. Every year, our expert nurses and doctors provide vital care to more than 800 babies. 
You can help us reach even more kids in need of desperate care, just like Lexie. Give today and help continue our mission of healing.