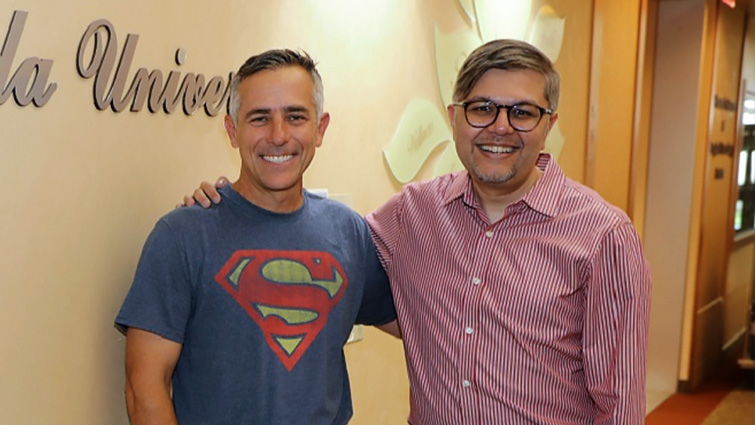 Jeff Sipos always enjoyed an active lifestyle. While working hard as an elementary school principal in the Etiwanda School District, his free time was spent climbing Mount Whitney, hiking the Grand Canyon rim-to-rim or completing 100-mile bike rides. But over time, Jeff's body stopped recovering from these adventures. Eventually, he simply couldn't do them anymore. As the pain in his hands and feet got more intense, he knew something was very wrong.
Jeff visited a rheumatologist who dismissed the culprit of his symptoms as a "protein" and gave a simple prescription of "watch and wait." To his disappointment, every doctor he visited failed to pinpoint the source of his debilitating pain or give him a firm diagnosis. 
Discouraged, he sought another opinion at Loma Linda University Health Cancer Center, where he was evaluated by medical oncologist Muhammad Omair Kamal, MD. Dr. Kamal immediately knew something was very wrong.
Tearfully, Jeff recalls, "I said no." Not only did Jeff have cancer, but a very rare form called Waldenström macroglobulinemia. The disease, caused by an excess of abnormal white blood cells in the bone marrow, has only been diagnosed in 1,500 people worldwide. But having treated this rare form of cancer, Dr. Kamal had the expertise to diagnose the life-threatening disease and quickly start aggressive treatment. 
Second Opinion, Second Chance
During that first appointment, Dr. Kamal spent over an hour helping Jeff understand his rare cancer. Jeff explains the doctor's simple act of spending that time was a powerful gift in the moment. "All of my other appointments felt rushed. Here I am, sitting at Loma Linda for a second opinion, and this doctor is taking his time. He's explaining everything to me. I could tell that he cared for me." 
By the end of the appointment, Jeff was compelled to move his care to Loma Linda University Health immediately. He knew he was being treated by the most caring professionals available. From routine visits to simple interactions with valet staff, it was such a calming experience to be surrounded by friendly people who were there to help. To this day, Jeff is amazed at how "welcoming, comforting, caring and united this entire hospital is." Those warm feelings were especially important during his months of aggressive chemotherapy treatment. "I would come to the Cancer Center with a smile on my face," he says. "It's just a remarkable place." 
An Unexpected Gift of Hope and Strength
Principal Jeff was not alone in his cancer journey. He was overwhelmed with the support from his students and families, particularly from one special little boy.  Kindergartener Jackson Todd gifted him a Superman t-shirt to cheer him on in the fight.  
"Jackson told me, 'You are like Superman, Mr. Sipos. You are going to beat this.' He gave me one of the greatest gifts I could ever receive: a piece of hope all wrapped up in that silly little shirt."
Jeff wore that shirt to every single treatment. "I thought, I'm going to put it on and I'm going to fight this thing like Superman," he says. "I wore my Superman shirt to every chemo session." It worked like a charm — and not just for his mood. Over the next few months, Jeff began showing improvement.
On February 5, 2019, Dr. Kamal delivered the best news imaginable: Jeff had experienced a complete response to the therapy and was cancer free. Today, Jeff calls the doctor his angel. He's looking forward to hiking, biking and conquering more mountains. For Jeff, his ultimate wish has been granted: to be with his family and continue touching lives through his job. "Loma Linda has given me this," he says. "It's my wish come true. 
Support More Cancer Superheroes 
At Loma Linda University Health, we help patients like Jeff get the second chance they deserve. By giving to our Cancer Center, you help provide lifesaving treatment for someone who desperately needs it. Give now to help us continue healing.