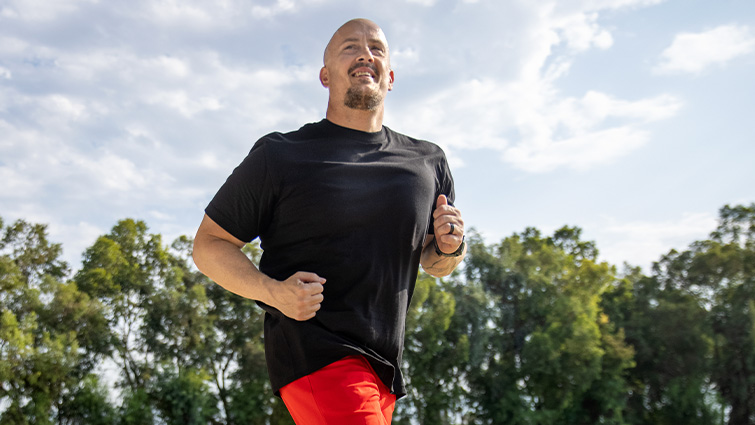 When Brian Durbin was only 28 years old, he received unexpected and life-changing news—he had congestive heart failure. Durbin, a Riverside resident, had to quit the job he loved – trucking – and put his plans to buy a home on hold.
"I was crushed," Durbin says.
Durbin's heart function was less than 10%. Doctors suspected a previous bad case of pneumonia led to the diagnosis. His weight ballooned to 320 pounds, and he had trouble breathing and sleeping.
But with the "love of a good woman" (Corey, who he married in 2009), walking, lifting weights, a healthy diet, and medication, he was able to drop 60 pounds. Even better, his heart function improved to 45%.
Over the next 12 years, Durbin's weight yo-yoed. By 2019, his weight had crept back up to an unhealthy level. He was dedicated to exercising with weight-lifting workouts, but admits he was "eating a lot." 
Another dose of unexpected news from his cardiologist was the nudge Durbin needed to make a life-changing decision.  "He read me the fine print," Durbin recalls. "My weight was a serious issue. If my heart function went south and I needed a transplant, I wouldn't even get on a transplant list due to my weight."  Durbin knew he needed help to get down to a healthy weight. His heart — and his life — depended on it.
Durbin had been considering bariatric surgery and chose the Weight Loss Surgery Program at Loma Linda University Health. He knew from the get-go his experience was going to be good.
"I felt respected. Like I was a real person, not a number," he says. 
Durbin appreciated that the program goes beyond losing weight, taking a comprehensive approach to becoming and staying healthy. He attended an introductory seminar and met with a surgeon, dietitian, and psychologist to learn what to expect through the process. He learned how the healthcare team provides whole-person care before and after surgery and how they help patients make the diet, exercise, and lifestyle changes needed to lose weight and keep it off. 
"Surgery doesn't fix everything. It helps, but it's only part of it," Durbin says. "If you don't have your head straight, you could be back in the same spot. They help you get in the right frame of mind."
In September 2020, Durbin had a sleeve gastrectomy, a procedure that reduces stomach size. The stomach functions normally, so Durbin can eat most foods in smaller portions.
By September 2021, Durbin had dropped 80 pounds. He has more energy and sleeps better. Most importantly, his relationship with food has changed. 
"Because I lifted weights, I had a misconstrued idea that I had to be eating tons of protein," Durbin says. "I eat regular meals every six hours, but a fraction of the amount I used to. You don't realize how little you really need." 
When he has questions or needs inspiration, Durbin turns to the program's support group, which meets monthly and is available 24/7 on Facebook. 
And Durbin's heart? He's taking less than half of the medication he was before, and physically, he can do almost anything. 
"Bariatric surgery has changed my life dramatically. Nothing's holding me back."   
Take the Next Step
Don't let weight keep you from living the full, active life you want. Learn how the Weight Loss Surgery Program can help you take control of your health and your life. To learn more about our bariatric surgical options, call 909-651-7091, or email us, bariatrics@llu.edu.