COVID-19 - APPOINTMENTS AND PROCEDURES
Your health and safety is still our top priority. Appointments are available as video visits, phone calls or in-person visits as needed, with the same safe, world-class care you expect.
If you have a movement disorder such as Parkinson's disease, dystonia or essential tremor, our neurosurgeons can help. While medications can be very effective, they may not offer consistent control of your symptoms. Surgery is a viable option in many cases. Although it is not a cure, surgery may improve your function and your quality of life.
Why Choose Loma Linda University Movement Disorder Surgery
Our experienced neurosurgeons use the latest surgical advancements to improve or eliminate your movement disorder symptoms. We bring together the expertise of our neurosurgeons, movement disorder neurologists and rehabilitation physicians to determine the best treatment for you.
Coordinated, multidisciplinary approach for a comprehensive treatment plan
Neurosurgeons who specialize in deep brain stimulation (DBS) for those who do not respond to medication or have inconsistent symptom control
All neurosurgeons are board certified/eligible
Featured News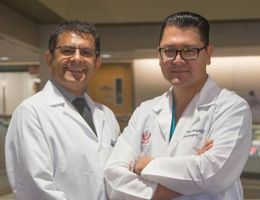 Deep brain stimulation procedure utilizes Boston Scientific device
Read story