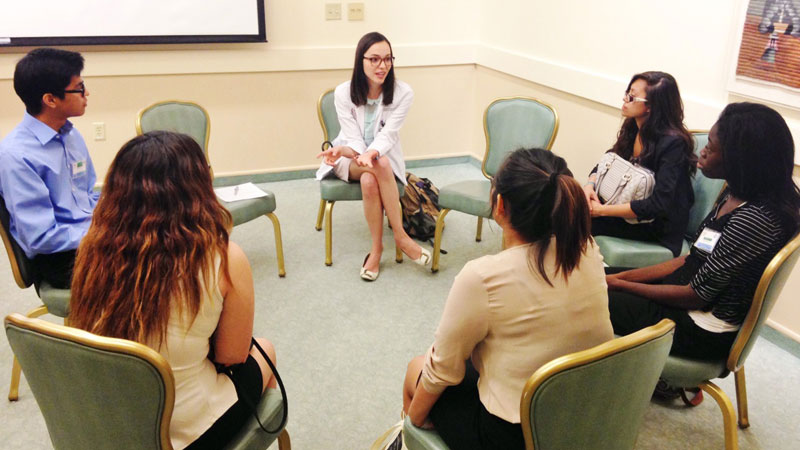 Education and Workforce Development
Community Health Workers
Integration of the Community Health Workers in health, public health and community support settings is an innovative approach to broaden the scope of services and links to strengthen community-based disease prevention.  The community-centered settings in which services are delivered, and the workforce resources to deliver such services, offer considerable potential to improve and address the social determinants of health, improve long-term health outcomes and lower health care costs. California Health Workforce Alliance's (CHWA's) definition of a Promotores –Community Health Worker (CHW) is a person who is a trusted member of and/or who has an unusually close understanding of the community served in the delivery of health related services through either working directly with providers or their partner organizations in the community being served.
Other Health Professions Development Programs
The San Manuel Gateway College is the first of its kind in the United States. The college will integrate training programs in health careers with clinical experience, allowing students to benefit from hands-on training and mentoring by Loma Linda University Health faculty and students. These six- to 18-month health career certificate programs will provide job entry skills, employment and college credit for students who elect to further their education.
Certified Nursing Assistant
Dialysis tech
Medical Assistant
Pharmacy Tech
Surgical Tech
Funding Health and Wellness Services at Social Action Community Health System
SAC Health System is a non-profit community healthcare corporation serving the Inland Empire. The clinics provide affordable health care services for all, but primarily serve uninsured patients and their families. They accept Medi-Cal and Medicare, and offer many federal, state and local programs to those who qualify. For those who are ineligible for programs, they offer a sliding fee scale based upon income.