Medical Center and Children's Hospital
Loma Linda University Health offers patients a self-parking option. The parking structure is on Campus Street, just north of Barton Road.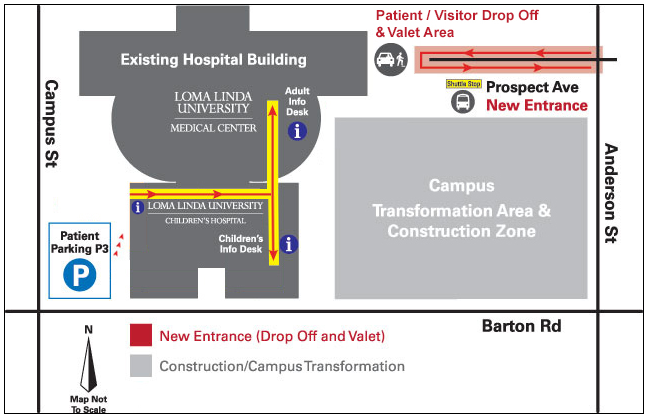 Please keep the following information in mind when visiting Loma Linda University Medical Center and Loma Linda University Children's Hospital.
Self-Parking Reminder
To reach the parking structure from the current hospital main entrance on Anderson and Prospect, continue south on Anderson to Barton Road, turn right on Barton Road, proceed to the first traffic signal, turn right on Campus, and turn right into the parking structure entrance.
The structure has six levels of parking, with 745 spaces. Handicapped parking includes 12 ADA spaces, three van ADA spaces, and one ADA electric vehicle charging space. There are 10 electrical vehicle charging spaces available. The building includes a waiting area for patients, two restrooms, and two elevator cars.
Directions from the Parking Structure
Upon exiting the parking structure, head left toward the Children's Hospital and enter through the vestibule. There are signs in place for wayfinding. After going through the vestibule, you will make a required right turn into the main corridor of the hospital. There will be a welcome desk soon thereafter to the left for general information. Continuing east down the main corridor, you will run into a dead end with wayfinding indicating a left/north turn for the Medical Center and right/south turn to the Children's Hospital reception desks. 
Front Entrance Drop Off / Pick Up and Valet Parking
The current front entrance road remains open, now serving for patient/visitor drop off/pick up, and for valet parking services.
Because of the self-parking option, visitors using the valet service will be charged a fee. Valet services are now available only during specific hours:
Monday to Thursday, 6:30 a.m. to 6:30 p.m.
Friday, 6:30 a.m. to 5:30 p.m.
Employees should remember that the front entrance driveway and the parking structure are for patients, visitors, and valet services only.
This configuration is expected to last approximately one year as we phase into the permanent future drop-off parking configuration for the new building. We will provide future updates as they become available. 
We thank you for your patience and understanding as our campus transformation continues.