The clinical program is centered at the Loma Linda University Children's Hospital NICU, which includes 84 intensive and intermediate care beds. This facility provides the trainee with a comprehensive clinical experience in one of the largest neonatal intensive care unit's on the West Coast. The NICU is designated as a Level 4 facility. Newborns are referred to the Children's Hospital NICU for local, regional, and internationals hospitals. We average about 1000 admissions per year and half of those patients that are transported to us. The unit is responsible for the transport, triage, and consultation service for newborns requiring any type of subspecialty care. The pediatric subspecialties  include:  nephrology, endocrinology, cardiology, neurology, hematology/oncology, immunology, infectious disease, pulmonary medicine and allergy, genetics and metabolic diseases.  We have full pediatric, surgical sub-specialty and cardiac surgical support. We support inhaled nitric oxide delivery, high frequency ventilation (oscillatory and jet ventilation) and ECMO.
The Neuro-NICU at LLUCH provides neurocritical care to improve outcomes of babies with neurologic injuries including hypoxic ischemic encephalopathy, neonatal stroke, intraventricular hemorrhage and other CNS malformations. Because of the significant burden of neurologic impairment in survivors of neonatal critical care, neonatologists have partnered with neurologists, neuroradiologists and developmental specialists to form an interdisciplinary neonatal neurocritical care service to improve developmental outcomes for neurologically at risk infants.  The NNICU offers sophisticated neurodiagnostic technologies such as continuous amplitude-integrated electroencephalography (aEEG) and video EEG that provide improved seizure detection allowing for earlier treatment that could improve neurodevelopmental outcomes.  Measuring regional tissue oxygen saturation of the brain and other organs is available using near infrared spectroscopy (NIRS).  In addition to regional oxygen saturation, NIRS can be used to estimate cerebral blood volume, cerebral blood flow and fractional tissue oxygen extraction.  Newer neuroimaging (MRI/MRS) techniques have also improved detection of neurologic injury allowing clinicians to prognosticate about future neurodevelopmental disability for parents.  As part of their training, fellows have the opportunity to participate in daily NNICU multidisciplinary rounds.

NICU Bed on Unit 3800
The Division of Neonatology operates an infant follow-up program for high risk NICU graduates. The clinic coordinates the efforts of pediatricians, neonatologists, psychologists, physical therapists, and occupational therapists to evaluate NICU graduates. The fellows must attend 10 clinics per year as part of a structured learning program.
Fellows will also do a rotation at Riverside University Health System, which is the Riverside County hospital located in Moreno Valley, CA.
Our program maintains a neonatology research laboratory under the direction of Arlin Blood, PhD and Christopher Wilson, PhD. The program is affiliated with the Perinatal Biology Center and allows fellows with an interest in fetal and perinatal physiology to work with established basic scientists. There is a laboratory animal medicine facility with full support staff.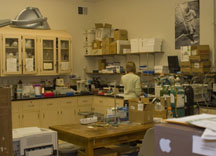 Research Laboratory
Fellows have ready access to extensive library and computing facilities at the nearby Del E. Webb University Library.  In addition, the hospital and offices are located on the campus of the University giving access to the full faculty including the School of Medicine, School of Nursing and School of Public Health.