Loma Linda University Medical Center is committed to comprehensive, competent, and compassionate care of individuals affected by stroke. The Stroke Program will strive to streamline an interdisciplinary effort to rapidly recognize and treat stroke patients with the highest quality of care.
Our Comprehensive Stroke program is an alliance of health professionals all working toward the common goal of protecting and healing patients from stroke.
Education is one of the key elements of our Stroke program; we are committed to educating staff and patients alike in the most current care and prevention of stroke.
We are dedicated to the continual pursuit of the highest quality of stroke care by constantly tracking stroke outcomes and evaluating our methods.
 
Acute Stroke
After advanced care is delivered in our dedicated neuro critical care unit and dedicated stroke unit by specialty trained physicians, nurse practitioners and nurses, our dedicated critical care stroke nurses and the critical care specialty team together respond 24 hrs 7 days a week to expedite timely acute interventions for both ischemic and hemorrhagic strokes patients. The neuro backpack carried by the team provides immediate access to t-PA "clot buster" and other medications needed for immediate stabilization.
These experienced neuro critical care nurses and critical care specialty team RN have received extensive education and training to fulfill the requirements.
Rehabilitation
Stroke rehabilitation occurs in our spacious and beautiful 24 bed facility, the Zapara Rehabilitation Pavilion, located on the East Campus.  At the Zapara Rehabilitation Pavilion, evidence-based healing is supported by a connection to nature, access to social support, elimination of environmental stressors, and innovative rehabilitative therapies.
Stroke Clinics
Our neurology clinic follows patients for both primary and secondary stroke prevention. Our physicians and nurse practitioners will ensure that patients are taking the right medications and participating in the necessary lifestyle modifications to prevent future strokes by collaborating with our Wellness Center.
Stroke Outcomes and Quality
In 2017, our program had a total of 42 carotid endarterectomies (CEA) with 23 cases being asymptomatic and 19 cases being symptomatic. There was one (1/42, 2%) major complications (death or stroke) from CEA for both asymptomatic and symptomatic patients.
 
There were 2 carotid arterial stenting (CAS) that were both asymptomatic. There were zero major complications from CAS.
 
There were zero asymptomatic transient ischemic attack (TIA) and 19 symptomatic. There was one (1/19, 5%) major complication from symptomatic TIA patients.
In 2018, our program had a total of 29 CEA with 15 cases being asymptomatic and 14 cases being symptomatic. There were 3 CEA combined with coronary artery bypass surgery (CABG). There were zero (0) major complications from CEA.
 
There were 4 CAS (1 trans-femoral and 3 trans-cervical) with 1 case being asymptomatic and 3 cases being symptomatic. There were zero (0) major complications from CAS.
 
There were zero (0) asymptomatic TIA and 1 symptomatic.
 
There was one (1/15, 6.7%) CSF infections in stroke cases from January through December 2017 and zero (0/7, 0%) from January through November 2018.
 
Overall, there were zero deaths within a 30-day period for year 2017 and 2018.
Stroke Facts and Figures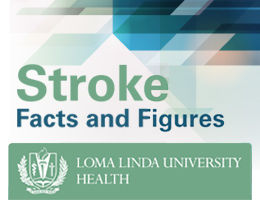 For additional information regarding our outcomes and quality, see our Loma Linda University Medical Center Comprehensive Stroke data PDF.
Download PDF