---
Quinoa for dessert? When it's combined with dark chocolate, salted cashews or your other favorite nuts, quinoa becomes a delectable sweet treat. 
Recipe:
Toasted Quinoa Pecan Clusters
---
Serving size: 48g
Servings per recipe: 8
---
1 Tbsp. coconut oil
1/2 Cups quinoa, rinsed
1 Cups salted nuts, chopped (walnuts, hazelnut, pecans, cashews or other favorite nut)
1 Tsp. sea salt
1/8 Tsp. cayenne pepper (optional)
6 Ounces dark chocolate (65% cacao or higher)
Directions
Line a baking sheet with parchment paper (or use a non-stick mat) and set aside. Heat skillet to medium heat. Add coconut oil and allow to melt. Add quinoa and toast, stirring often, for five to eight minutes or until the seeds are a toasted golden brown. Transfer to a medium bowl and add in favorite nut, sea salt and cayenne pepper (optional).
Melt dark chocolate in a glass bowl that fits in a pot over simmering water. Heat until melted, stirring often to prevent burning. When the chocolate is melted through, add in quinoa and cashew mixture and stir well until combined. Drop one to two tablespoons each onto prepared parchment paper, or a non-stick mat. Let sit at room temperature until set.
Nutrition Facts
Serving size:
| | |
| --- | --- |
| Calories | 260 |
| Total Fat | 18g |
| Saturated Fat | 7g |
| Trans Fat | 0g |
| Cholesterol | 0mg |
| Sodium | 310mg |
| Total Carbohydrate | 21g |
| Dietary Fiber | 2g |
| Total Sugars | 9g |
| | Includes 0g Added Sugars |
| Protein | 5g |
| Vitamin D | 0mcg |
| Calcium | 18mg |
| Iron | 5mg |
| Potassium | 183mg |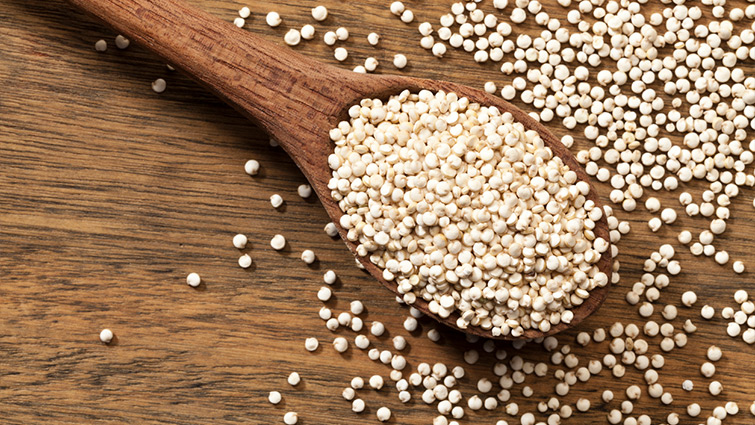 Star Ingredient:
Quinoa Contain:
Manganese*
What is manganese? A trace mineral essential for the body to metabolize fats and carbohydrates. In the body, it is found mostly in the bones and glands and is a cofactor for many enzymes, helping to facilitate dozens of metabolic processes. Manganese requirements are low, and plant foods such as nuts, whole grains, and green leafy vegetables contain significant amounts of this trace mineral. Deficiencies are therefore unlikely.
Magnesium*
Magnesium is critical for the operation of hundreds of enzymes. It acts in all the cells of the soft tissues where it forms part of the protein-making machinery and is necessary for the release of energy. Magnesium helps relax muscles after contraction and promotes resistance to tooth decay by holding calcium in tooth enamel. Magnesium rich food sources include dark green leafy vegetables, nuts, legumes, whole grain breads and cereals, seafood, chocolate and cocoa. Magnesium is easily lost from foods during processing, so unprocessed foods are the best choices.
Folate*
Did you know folate is part of the B-vitamin family, otherwise known as vitamin B9? It is active in cell division. During periods of active growth and cell division, such as pregnancy and adolescence, folate needs to increase, and deficiency is especially likely. The best food sources of folate are liver, legumes, green leafy vegetables, and beets. Among the fruits, they are oranges, orange juice, and cantaloupe. Heat and oxidation during cooking and storage can destroy up to half the folate in foods.
*These statements have not been evaluated by the Food and Drug Administration. This is not intended to diagnose, treat, cure, or prevent any disease.