---
Sweet, savory and delicious. This Thai curry soup is uniquely flavor filled and will keep you coming back for more. Pair with brown rice for a hardy delight.
Recipe:
Thai Curry Soup
---
Serving size: 8 oz
Servings per recipe: 4
Prep time: 15 min
Cook time: 20 min
---
1 bunch - Bok choy, stalk and leafy greens separated
1 small - Sweet potato, diced
3 1/2 oz. - Rice vermicelli noodles
1 Tbsp - Ginger, grated
2 cloves - Garlic, minced
2 Tbsp - Red curry paste
4 cup - Veggie broth, low sodium
13 oz. - Coconut milk, unsweetened
1/2 Tbsp - Brown sugar
2 Tbsp - Vegetable oil
Directions
Add the oil to a large soup pot over medium heat. Sauté the minced garlic, grated ginger, and red curry paste 1-2 minutes. Add diced sweet potato and chopped bok choy stalks to the pot (save the green leafy ends for later) with veggie broth. Bring the pot to a boil, then reduce the heat to low and simmer for 5-7 minutes, or until the sweet potatoes are tender.
While the soup is simmering, bring a small pot of water to a boil for the vermicelli. Once boiling, add the vermicelli and boil for 2-3 minutes, or just until tender. Drain the rice noodles in a colander and set aside.
Once the sweet potatoes are tender, add the coconut milk, and brown sugar to the soup. Stir, taste, and adjust if needed. Finally, add the bok choy greens and let them wilt in the hot soup. To serve, divide the rice vermicelli among four bowls. Ladle the soup and vegetables over the noodles, and top with desired garnishes.
Suggested Garnishes: Red onion slices, Lime juice, Cilantro, Drizzled hot sauce
Thai Curry Soup Nutrition Facts
Serving size: 8 oz
| | |
| --- | --- |
| Calories | 402 |
| Carbohydrates | 37g |
| Fiber | 5g |
| Total Fat | 27g |
| Saturated Fat | 18g |
| Monounsaturated Fat | 4g |
| Polyunsaturated Fat | 3g |
| Protein | 6g |
| Sugar | 8g |
Chef tip
Shredding Ginger
Chef tip
Prepping Bok Choy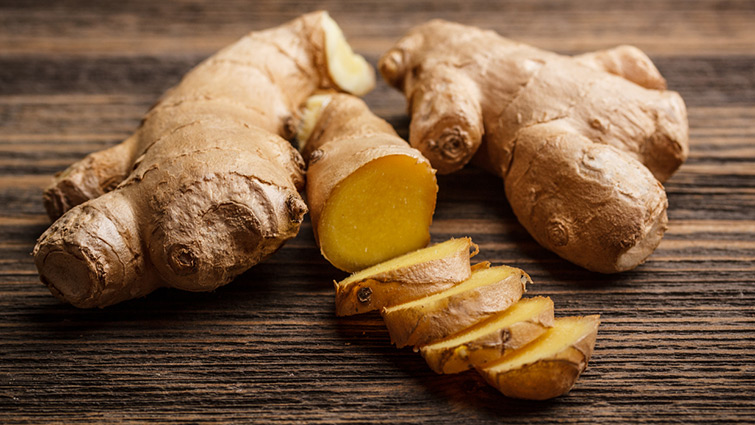 Star Ingredient: Ginger
Ginger Contain:
Potassium*
Potassium is the principle positively charged ion inside the body cells. It plays a major role in maintaining fluid and electrolyte balance and cell integrity. It is also critical in keeping the heartbeat steady. It assists in carbohydrate and protein metabolism. Potassium is abundant inside all living cells, both plant and animal, and because cells remain intact unless foods are processed, the richest sources of potassium are fresh foods of all kinds, especially fruits and vegetables.
Polyphenols*
What are polyphenols and are they good for us? They give whole foods their vibrant colors, but more importantly, they are in the antioxidant family to protect our bodies against harmful free radicals and possibly reduce inflammation. The richer in color, the more prominent the polyphenol levels.
*These statements have not been evaluated by the Food and Drug Administration. This is not intended to diagnose, treat, cure, or prevent any disease.