---
This classic Asian favorite is healthier than ever! You'll love these vegetarian spring rolls with avocado, purple cabbage and a sweet peanut sauce.  
Recipe:
Spring Rolls
---
Serving size: 1 roll with sauce
Servings per recipe: 6
---
For the rice paper rolls:
6 Sheets Vietnamese rice paper
1 Avocado, sliced
1 English cucumber, sliced lengthwise
Bean sprouts
3 Carrots, cut into thin strips (or pre-shredded)
3 Green onions, cut into rings
1 Cup purple cabbage, shredded or cut into thin strips
5 Radishes, cut into thin slices
1 Cup fresh mint
2 to 3 Cups lettuce, shredded or cut into thin strips
Glass noodles, cooked
For the peanut dipping sauce:
¼ Cup chunky peanut butter
2 Tsp. soy sauce
1 Clove garlic, minced
3 to 4 Tbsp. warm water for thinning
½ Tsp. hot sauce (optional)
Directions
Cut and prepare all the veggies. When the veggies are ready, fill a shallow bowl with water and dip the rice papers in water so they get moderately wet on both sides. Don't let them soak too long; you do not want them to get too soft.
Fill soaked wraps with the veggies and wrap them like a burrito. It's best to center the filling, fold in the two sides and begin to roll.
For peanut dipping sauce: In a medium bowl, combine all the sauce ingredients.
Serve the rice paper rolls with the peanut dipping sauce.
Nutrition Facts
Serving size:
| | |
| --- | --- |
| Calories | 180 |
| Total Fat | 11g |
| Saturated Fat | 1.5g |
| Trans Fat | 0g |
| Cholesterol | 0mg |
| Sodium | 190mg |
| Total Carbohydrate | 20g |
| Dietary Fiber | 6g |
| Total Sugars | 7g |
| | Includes 0g Added Sugars |
| Protein | 6g |
| Vitamin D | 0mcg |
| Calcium | 50mg |
| Iron | 1mg |
| Potassium | 451mg |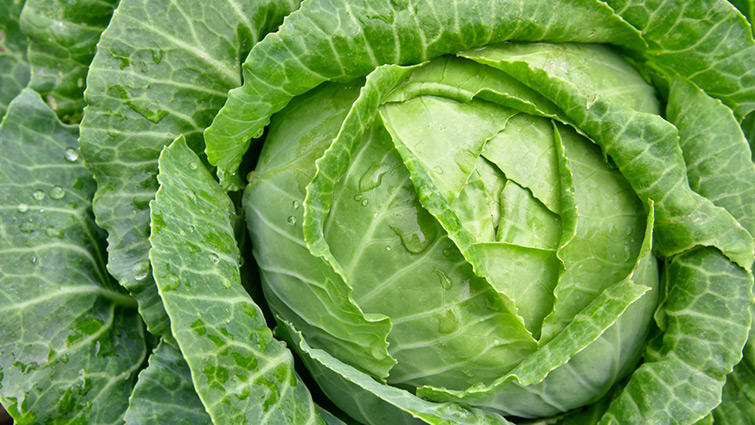 Star Ingredient:
Cabbage Contain:
Vitamin A*
When most people think of vitamin A, they think of their eyes. When vitamin A is lacking, the eye has difficulty adapting to changing light levels. Vitamin A is a versatile vitamin that also is involved with protein synthesis, reproduction and growth. The role that vitamin A plays in vision is undeniably important, but only one-thousandth of the body's vitamin A is in the retina. Much more is in the skin and the linings of organs, where it participates in protein synthesis and cell differentiation.
Vitamin E*
Vitamin E has benefits that go beyond hair, skin and nails. Vitamin E, a fat-soluble, is good for our hearts and blood vessels. This particular vitamin is found only in plant based foods such as certain oils, nuts, grains, and fruits. It naturally fights free-radicals and inflammation which makes it naturally the anti-aging vitamin. Did you know vitamin E is good for your eyes? Absorbing our vitamins from our food is always best, but a good supplement is a viable alternative.
Vitamin C*
Did you know the human body does not have the ability to produce vitamin C on its own? That's why it's so important to make sure we are eating a wide variety of foods with Vitamin C. This vital vitamin is not only useful to help our bodies fight off the common cold, but it's necessary for the absorption of iron and very important for our connective tissues. Connective tissues are what keep our skin firm and our muscles strong. Because vitamin C supports our connective tissues, it is also useful in speeding up the healing process. If you have a wound, you might want to consider increasing the intake of foods higher in vitamin C.
Trivia: Cats and dogs can make vitamin C therefore they don't need fruits and vegetables.
*These statements have not been evaluated by the Food and Drug Administration. This is not intended to diagnose, treat, cure, or prevent any disease.