---
The healthiest, most unique bread you'll ever make. This spaghetti squash bread uses banana as a binder, maple syrup for sweetness and spices that give it a traditional flavor.
Recipe:
Spaghetti Squash Spiced Bread
---
Serving size: 115g
Servings per recipe: 8
---
1 Small spaghetti squash (2 cups, de-seeded and cooked and meat pulled out into threads with a fork)
1 Cup whole wheat flour
2 Tsp. baking powder
¼ Tsp. baking soda
1 Tsp. cinnamon
1 Tsp. ground ginger
¼ Tsp. salt
1 Banana
½ Cup maple syrup
¼ Cup vegetable oil
½ Cup raisins, soaked in hot water for one hour
½ Cup pecans (Reserve some for topping)
Directions
Preheat oven to 375 degrees Fahrenheit and oil the loaf pan. Whisk together dry ingredients. Mix together all the wet ingredients except for spaghetti squash. Use blender for the wet ingredients to blend in banana.
Mix wet and dry ingredients together. Once mixed, incorporate spaghetti squash. Top with reserved chopped pecans. Bake for 60 to 65 minutes. Let cool about 10 minutes before serving.
Spaghetti Squash Spiced Bread Nutrition Facts
Serving size: 115g
| | |
| --- | --- |
| Calories | 280 |
| Total Fat | 13g |
| Saturated Fat | 1.5g |
| Trans Fat | 0g |
| Cholesterol | 0mg |
| Sodium | 110mg |
| Total Carbohydrate | 39g |
| Dietary Fiber | 4g |
| Total Sugars | 22g |
| | Includes 12g Added Sugars |
| Protein | 3g |
| Vitamin D | 0mcg |
| Calcium | 193mg |
| Iron | 1mg |
| Potassium | 279mg |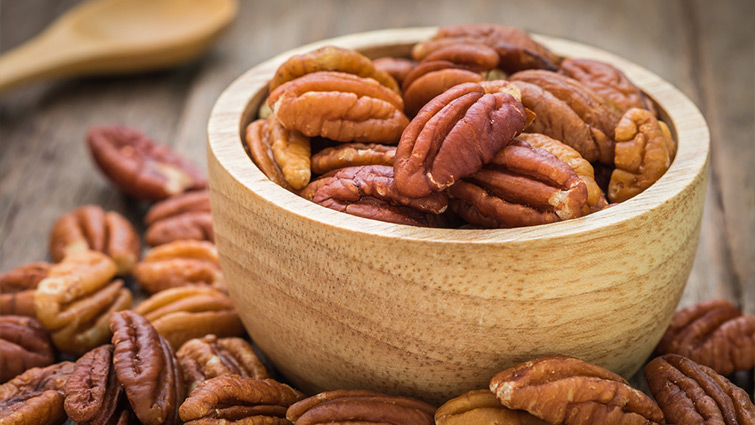 Star Ingredient: Pecans
Pecans Contain:
Manganese*
What is manganese? A trace mineral essential for the body to metabolize fats and carbohydrates. In the body, it is found mostly in the bones and glands and is a cofactor for many enzymes, helping to facilitate dozens of metabolic processes. Manganese requirements are low, and plant foods such as nuts, whole grains, and green leafy vegetables contain significant amounts of this trace mineral. Deficiencies are therefore unlikely.
Copper*
Although we may only need small amounts of this trace mineral, copper is very important to our overall health. The primary function of copper in the body is to serve as a constituent of enzymes with catalyze the formation of hemoglobin, help manufacture the protein collagen, assist in the healing of wounds and help maintain the sheath around nerve fibers. One of copper's most vital roles is to help cells use iron. Like iron, copper is needed in many reactions related to respiration and energy release. The best food sources include legumes, whole grains, seafood, nuts, and seeds.
Vitamin E*
Vitamin E has benefits that go beyond hair, skin and nails. Vitamin E, a fat-soluble, is good for our hearts and blood vessels. This particular vitamin is found only in plant based foods such as certain oils, nuts, grains, and fruits. It naturally fights free-radicals and inflammation which makes it naturally the anti-aging vitamin. Did you know vitamin E is good for your eyes? Absorbing our vitamins from our food is always best, but a good supplement is a viable alternative.
*These statements have not been evaluated by the Food and Drug Administration. This is not intended to diagnose, treat, cure, or prevent any disease.