---
Brussels sprouts are trendy, but our glazed sprouts use a sweet sesame dressing and a hot sauce kick to put a unique spin on this popular vegetable side dish.
Recipe:
Roasted Brussels Sprouts
---
Serving size: 224g
Servings per recipe: 4
---
1½ Pounds fresh Brussels sprouts
3 Tbsp. toasted sesame oil
4 Tbsp. soy sauce
2 Tbsp. palm sugar or pure maple syrup
1 Garlic clove, minced
1 Tbsp. hot sauce
Directions
Cut off the base of each sprout, then slice in half lengthwise. Remove any excess or loose leaves. Soak the prepared sprouts in a bowl of water for one minute to get them clean. Drain and pat them dry with paper towels, removing any excess moisture.
In a zip lock bag, add clean, dry, Brussels sprouts and sesame oil, close bag and shake to cover in oil. Add remaining ingredients to bag and shake..shake…shake. Line a rimmed baking sheet and spoon sprouts out of bag with a slotted spoon (save remaining sauce). Spread the sprouts out on the pan so there's a single layer without them overlapping. Bake at 400 degrees Fahrenheit for 30 minutes, stirring at minute 15 to ensure both sides are evenly crisp.
During the last five minutes of baking, reduce remaining sauce from bag in a small sauce pan over medium-high heat. Reduce for five minutes or until the sauce has thickened to a glaze. Remove from the oven and place in a heat-resistant bowl. Slowly add in the sauce and toss them, a little at a time, to ensure they stay nice and crispy.
Nutrition Facts
Serving size:
| | |
| --- | --- |
| Calories | 190 |
| Total Fat | 12g |
| Saturated Fat | 1.5g |
| Trans Fat | 0g |
| Cholesterol | 0mg |
| Sodium | 940mg |
| Total Carbohydrate | 22g |
| Dietary Fiber | 5g |
| Total Sugars | 11g |
| | Includes 8g Added Sugars |
| Protein | 6g |
| Vitamin D | 0mcg |
| Calcium | 74mg |
| Iron | 3mg |
| Potassium | 665mg |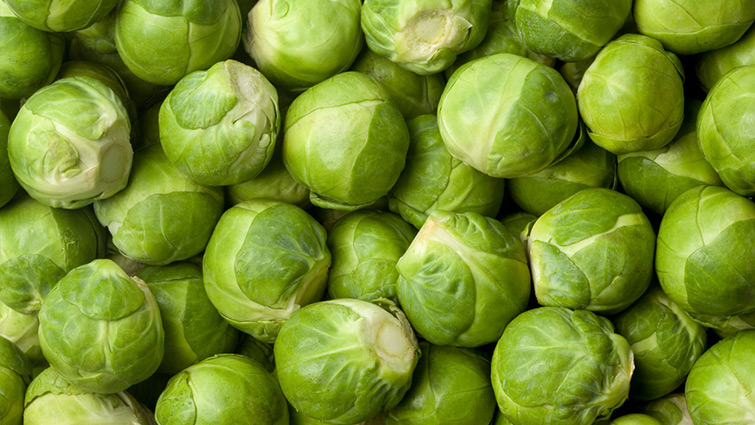 Star Ingredient:
Brussels Sprouts Contain:
Vitamin K*
Vitamin K has long been known for its role in blood clotting. It also participates in the synthesis of several bone proteins. Bacteria in the intestinal track synthesize vitamin K that the body can absorb but people cannot depend on this source alone for vitamin K. Many foods contain ample amounts of vitamin K, notably green leafy vegetables and members of the cabbage family. If you are taking blood-thinning medication, be sure to talk with your Registered Dietitian or Physician about how much vitamin K is safe for you to consume.
Potassium*
Potassium is the principle positively charged ion inside the body cells. It plays a major role in maintaining fluid and electrolyte balance and cell integrity. It is also critical in keeping the heartbeat steady. It assists in carbohydrate and protein metabolism. Potassium is abundant inside all living cells, both plant and animal, and because cells remain intact unless foods are processed, the richest sources of potassium are fresh foods of all kinds, especially fruits and vegetables.
Folate*
Did you know folate is part of the B-vitamin family, otherwise known as vitamin B9? It is active in cell division. During periods of active growth and cell division, such as pregnancy and adolescence, folate needs to increase, and deficiency is especially likely. The best food sources of folate are liver, legumes, green leafy vegetables, and beets. Among the fruits, they are oranges, orange juice, and cantaloupe. Heat and oxidation during cooking and storage can destroy up to half the folate in foods.
*These statements have not been evaluated by the Food and Drug Administration. This is not intended to diagnose, treat, cure, or prevent any disease.