---
With its rich and flavorful nutty undertones, barley provides a perfect backdrop to this twist on traditional rice risotto. This low fat, high fiber dish will soon be a delicious family favorite!
Recipe:
Pearled Barley and Pea Risotto
---
Serving size: 1 1/2 cups
Servings per recipe: 3
Prep time: 10 min
Cook time: 15 min
---
1 Tbsp - High heat oil (vegetable or avocado)
2 cup - Onion, chopped
1 cup - Peas, cooked
2 cup - Barley, pearled and cooked
1/2 -1 cup - Veggie stock
1 Tbsp - Heavy cream
1 Tbsp - Parmesan, grated
1 Tbsp - Parsley, chopped
Directions
Heat oil in a large saucepan over medium-high heat. Add the onion and cook until the onion begins to brown/ caramelize. Add the cream and barley. Reduce heat to medium and slowly add the veggie broth, a quarter cup at a time until the barley has absorbed the liquid and turned creamy. When finished, barley should be tender, yet slightly chewy. Stir in peas, parmesan, and parsley. Serve warm.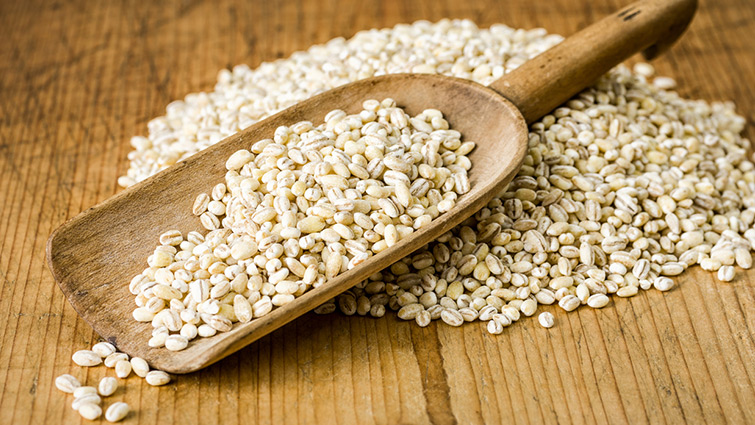 Star Ingredient:
Pearled Barley Contain:
Copper*
Although we may only need small amounts of this trace mineral, copper is very important to our overall health. The primary function of copper in the body is to serve as a constituent of enzymes with catalyze the formation of hemoglobin, help manufacture the protein collagen, assist in the healing of wounds and help maintain the sheath around nerve fibers. One of copper's most vital roles is to help cells use iron. Like iron, copper is needed in many reactions related to respiration and energy release. The best food sources include legumes, whole grains, seafood, nuts, and seeds.
Selenium*
Selenium is an essential trace mineral. It is part of an antioxidant enzyme called glutathione peroxidase which prevents the free-radical formation, thus blocking the damaging chain. Selenium also plays a role in converting the hormone to its active form. The risk of deficiency is very low. Anyone who eats a normal diet composed mostly of unprocessed foods need not worry about meeting the selenium recommendations. Selenium is widely distributed in foods such as meats, shellfish and vegetables and grains grown in selenium-rich soil.
Vitamins B1 and B3*
Vitamin B1, also known as thiamin, plays a critical role in the energy metabolism of cells, especially on nerve cell membranes. Consequently, processes in the nerves, and in their responding tissues, the muscles, depend heavily on thiamin. Thiamin occurs in small quantities in all nutritious foods. As long as people consume enough Calories to meet their energy needs, thiamin needs will be fulfilled.
Like thiamin, vitamin B3, known as niacin, participates in the energy metabolism of every body cell. Niacin is a unique B vitamin in that the body can make it from protein. Meat, poultry, and fish contribute about half the niacin equivalents most people consume. Among the vegetables, mushroom, asparagus, and green leafy vegetables are the richest niacin sources.
*These statements have not been evaluated by the Food and Drug Administration. This is not intended to diagnose, treat, cure, or prevent any disease.