---
This granola can be a hearty breakfast or flavorful snack to get you through the afternoon. It will make your taste buds sing! Try serving with warm milk as a hot cereal, or sprinkled over ice cream. The possibilities are endless.
Recipe:
Nut & Seed Granola
---
Serving size: 1/2 cup
Servings per recipe: 16
Prep time: 10 min
Cook time: 45-60 min
---
1/2 tsp - Ginger, ground
1/2 cup - Honey
6 Tbsp - Coconut oil
1 tsp - Cinnamon, ground
1/2 tsp - Cloves, ground
1 tsp - Vanilla
1/2 tsp - Sea salt
1/4 cup - Flaxseed whole or ground
1/4 cup - Sesame seeds
2 cups - Almonds, chopped
3/4 cup - Coconut flakes, unsweetened
1 cup - Pecans, chopped
1 cup - Pepitas (roasted pumpkin seeds)
1 cup - Sunflower seeds
1 cup - Walnuts, chopped
3/4 cup - Cranberries, dried
Directions
Preheat oven to 275˚F. Lightly grease a sheet pan or line with parchment paper. Combine all the dry ingredients in a large bowl. Over low heat, combine honey and coconut oil until melted. Remove from heat and stir in vanilla, cinnamon, cloves, ginger, and salt. Pour over nut/seed mixture and mix well. Spread mixture onto baking sheet. Bake for 45- 60 minutes or until golden brown, stirring every 15 minutes. Watch carefully as oven temps vary. Once the granola is a golden brown, remove from oven and allow to cool. Add dried fruit on top while the granola is cooling.
Nutrition Facts
Serving size:
| | |
| --- | --- |
| Calories | 407 |
| Carbohydrates | 23g |
| Fiber | 34g |
| Total Fat | 8g |
| Saturated Fat | 12g |
| Monounsaturated Fat | 12g |
| Polyunsaturated Fat | 12g |
| Sodium | 77mg |
| Protein | 10g |
| Sugar | 14g |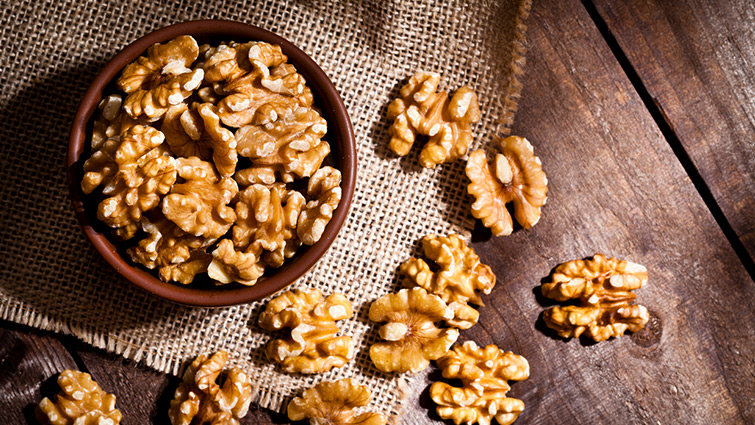 Star Ingredient:
Walnuts Contain:
Omega 3*
Omega 3 fatty acids are essential for normal growth and development and play an important role in the prevention and treatment of heart disease, hypertension, arthritis, and cancer. Fish is a rich source of omega 3 fatty acid. In fact, it is recommended for those who consume animal products, that fish be consumed two to three times per week. If vegetarian, walnuts can be a good source. Researchers at Loma Linda University Health have studied the effects that walnuts can have on our cholesterol levels. "The walnut diet lowered much more than cholesterol particularly the LDL-cholesterol that is considered the bad cholesterol without changes in the good cholesterol, the HDL cholesterol1" Dr. J. Sabaté.
1. Zambón, D., Sabaté, J., Muñoz, S., et al. (2000). Substituting walnuts for monounsaturated fat improves the serum lipid profile of hypercholesterolemic men and women. A randomized crossover trial. Ann Intern Med. 132(7):538-46. ncbi.nlm.nih.gov/pubmed/10744590
Copper*
Although we may only need small amounts of this trace mineral, copper is very important to our overall health. The primary function of copper in the body is to serve as a constituent of enzymes with catalyze the formation of hemoglobin, help manufacture the protein collagen, assist in the healing of wounds and help maintain the sheath around nerve fibers. One of copper's most vital roles is to help cells use iron. Like iron, copper is needed in many reactions related to respiration and energy release. The best food sources include legumes, whole grains, seafood, nuts, and seeds.
Biotin*
Biotin plays an important role in metabolism as a coenzyme that serves as a carrier of carbon dioxide. It is widespread in foods thus, a deficiency is unlikely. Biotin is part of the B-vitamin family and acts as a coenzyme that helps absorb fats, carbohydrates, and proteins. Beware, Biotin is believed only to be absorbed internally, so products 'infused' with biotin might prove ineffective. The body cannot build up a reserve, so it's important to ingest foods with biotin daily.
*These statements have not been evaluated by the Food and Drug Administration. This is not intended to diagnose, treat, cure, or prevent any disease.