---
These bites are sure to inspire anyone to get out and exercise. The extra fiber is sure to get other things moving too. An instant kid favorite, and a healthier alternative to a traditional dessert.
Recipe:
No Bake Energy Bites
---
Serving size: 2 bites
Servings per recipe: 15
Prep time: 30 min
---
1 cup - Oatmeal, dry
2/3 cup - Coconut flakes, toasted
1/2 cup - Peanut butter (or other nut butter)
1/2 cup - Flax seed, ground
1/2 cup - Dark chocolate chips (85% cacao or more)
1/3 cup - Honey or agave nectar
1 Tbsp - Chia seeds
1 tsp - Vanilla extract
Directions
In a medium bowl, mix peanut butter, honey, and vanilla until well combined. Mix dry ingredients separately. Add dry mixture to the peanut butter mixture and mix until thoroughly incorporated. Let chill in the refrigerator or freezer for 15-20 minutes. Once chilled, roll 2 tablespoons of dough for each ball. Store in an airtight container and keep refrigerated for up to 1 week or freezer for up to three weeks. Good luck keeping them a few days!
Nutrition Facts
Serving size:
| | |
| --- | --- |
| Calories | 147 |
| Carbohydrates | 15g |
| Fiber | 3g |
| Total Fat | 9g |
| Saturated Fat | 3g |
| Monounsaturated Fat | 3g |
| Polyunsaturated Fat | 2g |
| Sodium | 30mg |
| Protein | 3g |
| Sugar | 9g |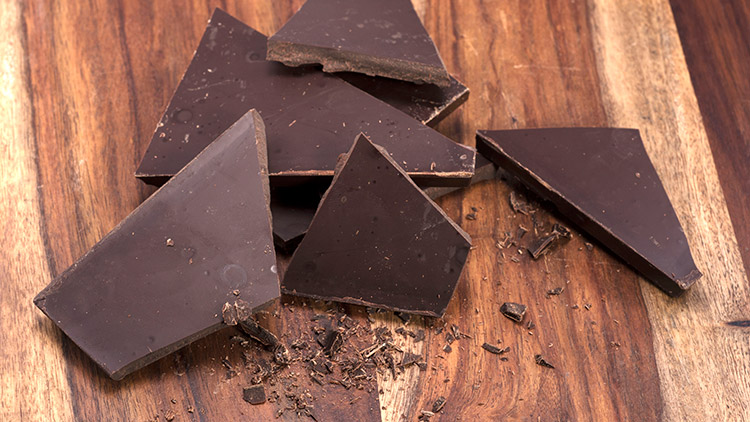 Star Ingredient:
Dark Chocolate Contain:
Iron*
Iron is a trace mineral most commonly known for maintaining hemoglobin levels. One of the most essential functions of iron is its production of red blood cells which provide oxygen to our tissues. Considering blood oxygenates the brain and iron is carried through the body by blood, iron is directly related to healthy brain function. A well-oxygenated body can lead to a feeling of well-being. Interestingly, vitamin C and iron consumed at the same time may increase the absorption of iron.
Trivia: Only carbohydrate, protein and fat supply energy to the body.
Fiber*
We have all heard we don't get enough fiber. Do you know why we need fiber? Mainly we need fiber to relieve and reverse symptoms of constipation. Fiber is only found in vegetables, fruits, legumes and whole grains. The fibers of plants are constituents of plant cell walls. Hemicellulose, pectins, gums and mucilages are examples of different types of fiber. Some fibers cannot be digested; however, some can be digested by bacteria in the human digestive tract and can generate some absorbable products which can yield energy when metabolized. Insoluble fibers do not dissolve readily in water while soluble do. Both types contribute to digestive health.
Magnesium*
Magnesium is critical for the operation of hundreds of enzymes. It acts in all the cells of the soft tissues where it forms part of the protein-making machinery and is necessary for the release of energy. Magnesium helps relax muscles after contraction and promotes resistance to tooth decay by holding calcium in tooth enamel. Magnesium rich food sources include dark green leafy vegetables, nuts, legumes, whole grain breads and cereals, seafood, chocolate and cocoa. Magnesium is easily lost from foods during processing, so unprocessed foods are the best choices.
*These statements have not been evaluated by the Food and Drug Administration. This is not intended to diagnose, treat, cure, or prevent any disease.