---
You've found the perfect vegan meatball recipe. This one uses a chickpea/vegetable mixture for vegan meatballs that melt in the mouth, made even better with a succulent Thai curry sauce.
Recipe:
"Meatballs" with Thai Curry Sauce
---
Serving size: 1 cup
Servings per recipe: 5
---
"Meatballs"
¼ Cup walnuts, raw
1 (15oz.) Can chickpeas (garbanzo beans), drained and rinsed
1 Tbsp. green onions, thinly sliced
½ Cup carrot, grated
½ Cup zucchini, grated
2 Garlic cloves, minced
2 Tbsp. Chickpea flour
¼ Tsp. red pepper flakes
Curry Sauce
2 Tbsp. peanut oil (or other high heat oil)
1 Red onion, small and thinly sliced
2 Garlic cloves, minced
2 Tsp. red curry paste
2 Tsp. curry powder, yellow
1 Tsp. turmeric
1 Tsp. paprika
1 Tsp. onion powder
1 (15oz.) Can coconut milk
2 Tsp. lime juice, fresh
1/8 Tsp. salt
Directions
"Meatballs"
Preheat oven to 350 degrees and line baking sheet with parchment paper (unless the sheet is lightly greased). Set aside. In a food processor, pulse walnuts until very fine, but not a paste. Add to large mixing bowl. Next, in the food processor, pulse the drained and rinsed chickpeas until half are pureed and the rest have some texture. Add to same large bowl as the walnuts. To the same bowl, add green onion, carrot, zucchini, garlic, chickpea flour, salt and pepper flakes. Mix together well. Form mixture into balls and place on prepared baking sheet. Bake for 25-30 minutes until golden brown.
Curry Sauce
Add high heat oil to a large skillet. When hot, add in sliced onions and cook till tender (about two minutes). Add in garlic, curry paste, curry powder, turmeric, paprika, and onion powder. Toast together for about one minute, then slowly stir in the coconut milk. Bring to a simmer and let simmer for 15 minutes, stirring occasionally. Remove from heat and add in lime juice and salt to taste.
Spoon sauce over "meatballs" alone or over rice.
"Meatballs" with Thai Curry Sauce Nutrition Facts
Serving size: 1 cup
| | |
| --- | --- |
| Calories | 370 |
| Total Fat | 29g |
| Saturated Fat | 17g |
| Trans Fat | 0g |
| Cholesterol | 0mg |
| Sodium | 450mg |
| Total Carbohydrate | 21g |
| Dietary Fiber | 5g |
| Total Sugars | 2g |
| | Includes 0g Added Sugars |
| Protein | 8g |
| Vitamin D | 0mcg |
| Calcium | 77mg |
| Iron | 5mg |
| Potassium | 488mg |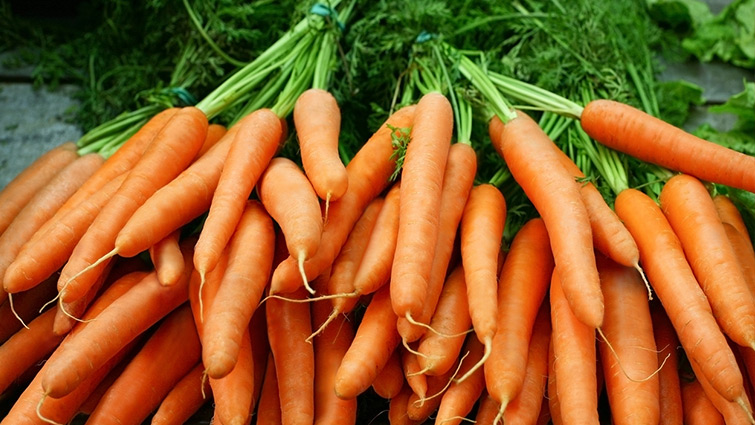 Star Ingredient: Carrots
Carrots Contain:
Vitamin A*
When most people think of vitamin A, they think of their eyes. When vitamin A is lacking, the eye has difficulty adapting to changing light levels. Vitamin A is a versatile vitamin that also is involved with protein synthesis, reproduction and growth. The role that vitamin A plays in vision is undeniably important, but only one-thousandth of the body's vitamin A is in the retina. Much more is in the skin and the linings of organs, where it participates in protein synthesis and cell differentiation.
Vitamin K*
Vitamin K has long been known for its role in blood clotting. It also participates in the synthesis of several bone proteins. Bacteria in the intestinal track synthesize vitamin K that the body can absorb but people cannot depend on this source alone for vitamin K. Many foods contain ample amounts of vitamin K, notably green leafy vegetables and members of the cabbage family. If you are taking blood-thinning medication, be sure to talk with your Registered Dietitian or Physician about how much vitamin K is safe for you to consume.
Vitamin C*
Did you know the human body does not have the ability to produce vitamin C on its own? That's why it's so important to make sure we are eating a wide variety of foods with Vitamin C. This vital vitamin is not only useful to help our bodies fight off the common cold, but it's necessary for the absorption of iron and very important for our connective tissues. Connective tissues are what keep our skin firm and our muscles strong. Because vitamin C supports our connective tissues, it is also useful in speeding up the healing process. If you have a wound, you might want to consider increasing the intake of foods higher in vitamin C.
Trivia: Cats and dogs can make vitamin C therefore they don't need fruits and vegetables.
*These statements have not been evaluated by the Food and Drug Administration. This is not intended to diagnose, treat, cure, or prevent any disease.