---
Have you ever had an 'inside-out' enchilada? Here we have taken the cheese, traditionally on the inside, and replaced it with a healthy, hearty filling.
Recipe:
Inside-Out Enchiladas
---
Serving size: 2
Servings per recipe: 4
Prep time: 15 min
Cook time: 10 min
---
1 Package corn tortillas
16 oz. Can red enchilada sauce (divided)
1/4 Cup sour cream, light
1 14 oz. Can black beans, rinsed and drained
1 Cup corn kernels
1 Can green chilies, drained
1/2 Cup red bell pepper, chopped
1/4 Cup red onion, chopped
4 oz. Cheese, grated
1/4 Cup green onions (about 2 stalks), chopped
Directions
Preheat oven to 350 degrees Fahrenheit. Coat the interior of a 9" x 13" pan with non-stick spray; and a thin coat of enchilada sauce and set aside.
Start by preparing the tortillas. Heat one tortilla up at a time with a little oil in a shallow pan. This will help them to be more pliable during the filling process to prevent tearing.
In a medium pot, stir together one cup of enchilada sauce and sour cream in a pot until completely incorporated. Add the beans, corn, chiles, peppers and red onions. Allow to heat for a few minutes.
Place one tortilla in the prepared sauce-lined pan. Using a slotted spoon, scoop a generous amount of the enchilada filling into the middle of the tortilla and fold over. Continue the process until your pan is full. Top evenly with remaining sauce and the grated cheese; bake for 10 minutes. Remove and sprinkle the green onions over the top.
Chef Tip: Soak your raw black beans in the refrigerator for at least four hours, not exceeding 12.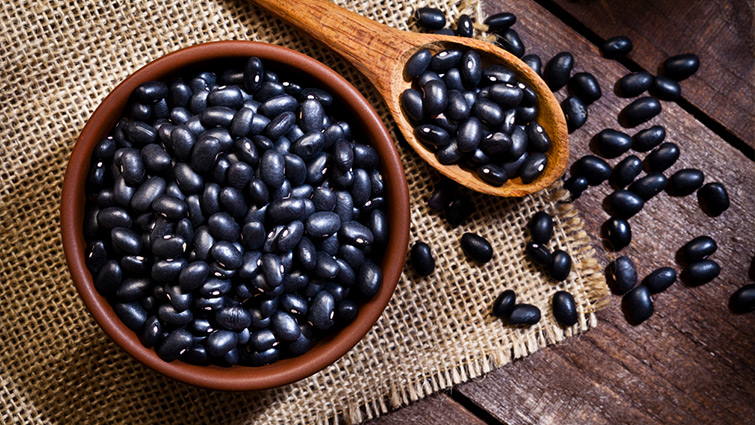 Star Ingredient: Black Beans
Black Beans Contain:
Iron*
Iron is a trace mineral most commonly known for maintaining hemoglobin levels. One of the most essential functions of iron is its production of red blood cells which provide oxygen to our tissues. Considering blood oxygenates the brain and iron is carried through the body by blood, iron is directly related to healthy brain function. A well-oxygenated body can lead to a feeling of well-being. Interestingly, vitamin C and iron consumed at the same time may increase the absorption of iron.
Trivia: Only carbohydrate, protein and fat supply energy to the body.
Copper*
Although we may only need small amounts of this trace mineral, copper is very important to our overall health. The primary function of copper in the body is to serve as a constituent of enzymes with catalyze the formation of hemoglobin, help manufacture the protein collagen, assist in the healing of wounds and help maintain the sheath around nerve fibers. One of copper's most vital roles is to help cells use iron. Like iron, copper is needed in many reactions related to respiration and energy release. The best food sources include legumes, whole grains, seafood, nuts, and seeds.
Folate*
Did you know folate is part of the B-vitamin family, otherwise known as vitamin B9? It is active in cell division. During periods of active growth and cell division, such as pregnancy and adolescence, folate needs to increase, and deficiency is especially likely. The best food sources of folate are liver, legumes, green leafy vegetables, and beets. Among the fruits, they are oranges, orange juice, and cantaloupe. Heat and oxidation during cooking and storage can destroy up to half the folate in foods
*These statements have not been evaluated by the Food and Drug Administration. This is not intended to diagnose, treat, cure, or prevent any disease.