---
With almond flour, everyone's favorite muffin is now safe for the gluten-free. Because these blueberry muffins are sweetened with honey and vanilla extract, they're also great for low-sugar diets.
Recipe:
Gluten-Free Blueberry Muffins
---
Serving size: 49g
Servings per recipe: 12
---
2 Cups almond flour, blanched
2 Eggs
1/4 Cup honey or maple syrup
1/2 Tsp. baking soda
1 Tsp. baking powder
1/4 Tsp. salt
1 Tbsp. pure vanilla extract
2 Tbsp. olive oil
1 Cup blueberries, frozen
Directions
Preheat oven to 350 degrees Fahrenheit. Prepare muffin tin with muffin liners or grease the muffin tin. Add all ingredients except the blueberries into a large bowl. Mix together until texture thickens and ingredients are combined. Fold in blueberries. Spoon batter evenly between muffin pan filling them until almost full. Bake for 20 to 25 minutes.
Nutrition Facts
Serving size:
| | |
| --- | --- |
| Calories | 170 |
| Total Fat | 12g |
| Saturated Fat | 1g |
| Trans Fat | 0g |
| Cholesterol | 30mg |
| Sodium | 120mg |
| Total Carbohydrate | 11g |
| Dietary Fiber | 2g |
| Total Sugars | 7g |
| | Includes 5g Added Sugars |
| Protein | 5g |
| Vitamin D | 0mcg |
| Calcium | 96mg |
| Iron | 1mg |
| Potassium | 17mg |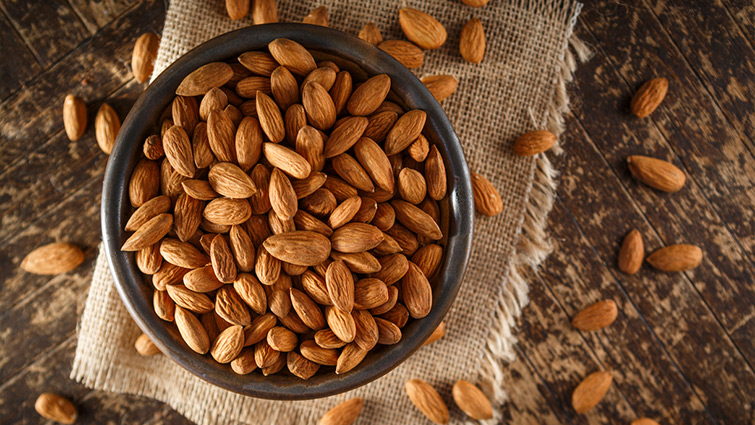 Star Ingredient:
Almonds Contain:
Manganese*
What is manganese? A trace mineral essential for the body to metabolize fats and carbohydrates. In the body, it is found mostly in the bones and glands and is a cofactor for many enzymes, helping to facilitate dozens of metabolic processes. Manganese requirements are low, and plant foods such as nuts, whole grains, and green leafy vegetables contain significant amounts of this trace mineral. Deficiencies are therefore unlikely.
Phosphorus*
Most of the phosphorus in the body is in the bones and teeth. Phosphorus helps maintain acid-base balance in the blood, as part of the genetic material in cells, assists in energy metabolism and is part of cell membranes. Deficiencies of phosphorus are unknown.
Vitamin E*
Vitamin E has benefits that go beyond hair, skin and nails. Vitamin E, a fat-soluble, is good for our hearts and blood vessels. This particular vitamin is found only in plant based foods such as certain oils, nuts, grains, and fruits. It naturally fights free-radicals and inflammation which makes it naturally the anti-aging vitamin. Did you know vitamin E is good for your eyes? Absorbing our vitamins from our food is always best, but a good supplement is a viable alternative.
*These statements have not been evaluated by the Food and Drug Administration. This is not intended to diagnose, treat, cure, or prevent any disease.