---
Need a delicious way to warm the soul? This velvety-smooth soup is a wonderful way to get a beta-carotene rich boost to the immune system.
Recipe:
Creamy Carrot Soup
---
Serving size: 8 ounces
Servings per recipe: 6
Prep time: 10 min
Cook time: 25 min
---
3 Tbsp - High heat oil
2 pounds - Carrots, peeled and chopped
1 lrg - Onion, chopped roughly
2 Tbsp - Garlic, minced
1 sprig - Fresh thyme
1 sprig - Fresh rosemary
32 oz. - Low-sodium veggie broth
1/2 tsp - Hot sauce
Season to taste
Directions
Heat oil in medium pan on medium heat. Add carrots, onions, garlic, thyme and rosemary. Cook until carrots are tender (about 15 minutes). Remove herb sprigs before transferring vegetables to blender. Add broth to blender then puree until smooth. Transfer back to pan, and bring soup to a simmer before serving. Season to taste.
Nutrition Facts
Serving size:
| | |
| --- | --- |
| Calories | 140 |
| Carbohydrates | 17g |
| Fiber | 4g |
| Total Fat | 7g |
| Saturated Fat | 1g |
| Monounsaturated Fat | 5g |
| Polyunsaturated Fat | 1g |
| Total Carbohydrate | 17g |
| Dietary Fiber | 4g |
| Protein | 3g |
| Sugar | 8g |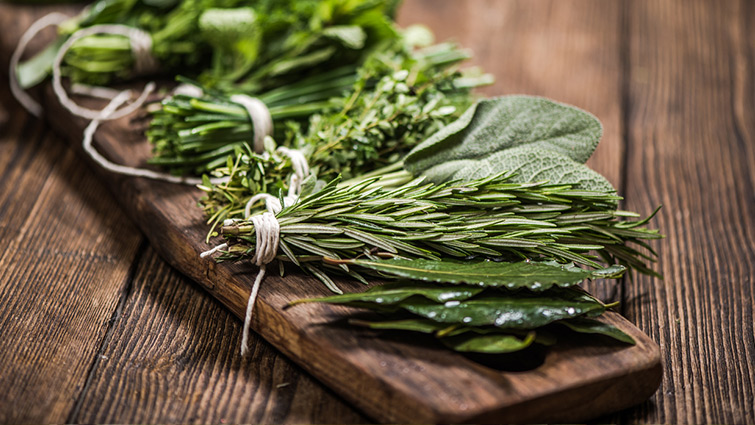 Star Ingredient:
Herbs Contain:
Vitamin C*
Did you know the human body does not have the ability to produce vitamin C on its own? That's why it's so important to make sure we are eating a wide variety of foods with Vitamin C. This vital vitamin is not only useful to help our bodies fight off the common cold, but it's necessary for the absorption of iron and very important for our connective tissues. Connective tissues are what keep our skin firm and our muscles strong. Because vitamin C supports our connective tissues, it is also useful in speeding up the healing process. If you have a wound, you might want to consider increasing the intake of foods higher in vitamin C.
Trivia: Cats and dogs can make vitamin C therefore they don't need fruits and vegetables.
Iron*
Iron is a trace mineral most commonly known for maintaining hemoglobin levels. One of the most essential functions of iron is its production of red blood cells which provide oxygen to our tissues. Considering blood oxygenates the brain and iron is carried through the body by blood, iron is directly related to healthy brain function. A well-oxygenated body can lead to a feeling of well-being. Interestingly, vitamin C and iron consumed at the same time may increase the absorption of iron.
Trivia: Only carbohydrate, protein and fat supply energy to the body.
Vitamin A*
When most people think of vitamin A, they think of their eyes. When vitamin A is lacking, the eye has difficulty adapting to changing light levels. Vitamin A is a versatile vitamin that also is involved with protein synthesis, reproduction and growth. The role that vitamin A plays in vision is undeniably important, but only one-thousandth of the body's vitamin A is in the retina. Much more is in the skin and the linings of organs, where it participates in protein synthesis and cell differentiation.
*These statements have not been evaluated by the Food and Drug Administration. This is not intended to diagnose, treat, cure, or prevent any disease.