---
This new way to serve edamame is a game-changer! Edamame is still the star, but baked-on Parmesan makes it even more crisp and delicious.
Recipe:
Cheesy Edamame
---
Serving size: 1/4 Cup
Servings per recipe: 4
Prep time: 5 minutes
Cook time: 12-15 minutes
---
2 Cups edamame, raw (fresh or frozen)
1 Tbsp. high heat oil
1/4 Cup Parmesan cheese
1/4 Tsp. garlic powder
Pinch salt
Directions
Preheat oven to 400 degrees Fahrenheit. Line baking sheet with foil or a non-stick mat. Set aside.
In a medium bowl, add edamame and oil. Once well coated, add cheese of your choice, garlic powder and salt. Mix to combine. Spread edamame on baking sheet and bake for 12 to 15 minutes until cheese is melted and a bit browned. Cool before serving.
Nutrition Facts
Serving size:
| | |
| --- | --- |
| Calories | 150 |
| Total Fat | 8g |
| Saturated Fat | 1.5g |
| Trans Fat | 0g |
| Cholesterol | 5mg |
| Sodium | 180mg |
| Total Carbohydrate | 9g |
| Dietary Fiber | 4g |
| Total Sugars | 1g |
| | Includes 0g Added Sugars |
| Protein | 10g |
| Vitamin D | 0mcg |
| Calcium | 113mg |
| Iron | 2mg |
| Potassium | 7mg |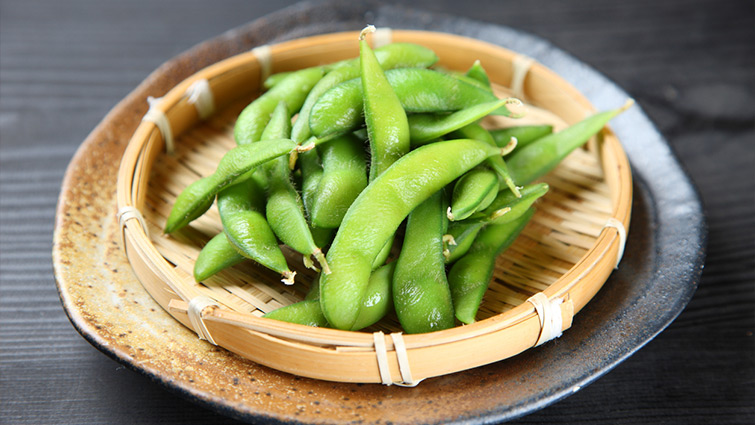 Star Ingredient:
Edamame Contain:
Magnesium*
Magnesium is critical for the operation of hundreds of enzymes. It acts in all the cells of the soft tissues where it forms part of the protein-making machinery and is necessary for the release of energy. Magnesium helps relax muscles after contraction and promotes resistance to tooth decay by holding calcium in tooth enamel. Magnesium rich food sources include dark green leafy vegetables, nuts, legumes, whole grain breads and cereals, seafood, chocolate and cocoa. Magnesium is easily lost from foods during processing, so unprocessed foods are the best choices.
Fiber*
We have all heard we don't get enough fiber. Do you know why we need fiber? Mainly we need fiber to relieve and reverse symptoms of constipation. Fiber is only found in vegetables, fruits, legumes and whole grains. The fibers of plants are constituents of plant cell walls. Hemicellulose, pectins, gums and mucilages are examples of different types of fiber. Some fibers cannot be digested; however, some can be digested by bacteria in the human digestive tract and can generate some absorbable products which can yield energy when metabolized. Insoluble fibers do not dissolve readily in water while soluble do. Both types contribute to digestive health.
Iron*
Iron is a trace mineral most commonly known for maintaining hemoglobin levels. One of the most essential functions of iron is its production of red blood cells which provide oxygen to our tissues. Considering blood oxygenates the brain and iron is carried through the body by blood, iron is directly related to healthy brain function. A well-oxygenated body can lead to a feeling of well-being. Interestingly, vitamin C and iron consumed at the same time may increase the absorption of iron.
Trivia: Only carbohydrate, protein and fat supply energy to the body.
*These statements have not been evaluated by the Food and Drug Administration. This is not intended to diagnose, treat, cure, or prevent any disease.