---
Is there a low-carb stuffing? You bet! Swap bread for cauliflower, add carrots and raisins, and you have a low-carb Thanksgiving side dish that's perfect for those who have diabetes.
Recipe:
Cauliflower Stuffing
---
Serving size: 301g
Servings per recipe: 6
---
4 Tbsp. canola oil
1 Onion, chopped
2 Large carrots, peeled and chopped
2 Celery stalks, chopped
2 Heads cauliflower, chopped
1 Cup walnuts, chopped
Kosher salt to taste
Cayenne pepper to taste
¼ Cup fresh parsley, chopped
2 Tbsp. fresh rosemary, chopped
1 Tbsp. fresh sage, chopped (or 1 tsp. ground sage)
1/4 Cup golden raisins
Breadcrumbs for topping
Directions
Preheat oven to 425 degrees Fahrenheit. In a large bowl, combine onion, carrots, celery, cauliflower with the oil, salt and cayenne. Arrange in a single layer on a sheet tray.
Roast in heated oven until just beginning to brown, about 30 minutes. Remove from oven and sprinkle with walnuts over the top. Return to the oven and roast for another five to six minutes until nuts are beginning to brown. Remove from oven and add fresh herbs and raisins. Transfer to a bowl and keep warm until ready to serve.
Nutrition Facts
Serving size:
| | |
| --- | --- |
| Calories | 320 |
| Total Fat | 23g |
| Saturated Fat | 2g |
| Trans Fat | 0g |
| Cholesterol | 0mg |
| Sodium | 450mg |
| Total Carbohydrate | 27g |
| Dietary Fiber | 7g |
| Total Sugars | 12g |
| | Includes 0g Added Sugars |
| Protein | 8g |
| Vitamin D | 0mcg |
| Calcium | 100mg |
| Iron | 2mg |
| Potassium | 852mg |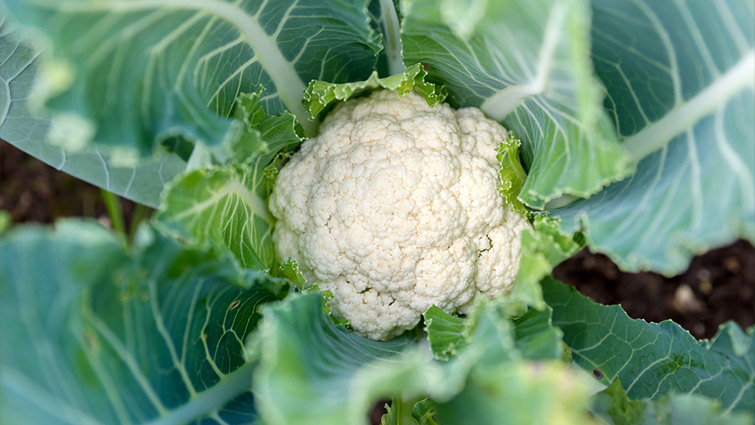 Star Ingredient:
Cauliflower Contain:
Vitamin K*
Vitamin K has long been known for its role in blood clotting. It also participates in the synthesis of several bone proteins. Bacteria in the intestinal track synthesize vitamin K that the body can absorb but people cannot depend on this source alone for vitamin K. Many foods contain ample amounts of vitamin K, notably green leafy vegetables and members of the cabbage family. If you are taking blood-thinning medication, be sure to talk with your Registered Dietitian or Physician about how much vitamin K is safe for you to consume.
Vitamin C*
Did you know the human body does not have the ability to produce vitamin C on its own? That's why it's so important to make sure we are eating a wide variety of foods with Vitamin C. This vital vitamin is not only useful to help our bodies fight off the common cold, but it's necessary for the absorption of iron and very important for our connective tissues. Connective tissues are what keep our skin firm and our muscles strong. Because vitamin C supports our connective tissues, it is also useful in speeding up the healing process. If you have a wound, you might want to consider increasing the intake of foods higher in vitamin C.
Trivia: Cats and dogs can make vitamin C therefore they don't need fruits and vegetables.
Omega 3*
Omega 3 fatty acids are essential for normal growth and development and play an important role in the prevention and treatment of heart disease, hypertension, arthritis, and cancer. Fish is a rich source of omega 3 fatty acid. In fact, it is recommended for those who consume animal products, that fish be consumed two to three times per week. If vegetarian, walnuts can be a good source. Researchers at Loma Linda University Health have studied the effects that walnuts can have on our cholesterol levels. "The walnut diet lowered much more than cholesterol particularly the LDL-cholesterol that is considered the bad cholesterol without changes in the good cholesterol, the HDL cholesterol1" Dr. J. Sabaté.
1. Zambón, D., Sabaté, J., Muñoz, S., et al. (2000). Substituting walnuts for monounsaturated fat improves the serum lipid profile of hypercholesterolemic men and women. A randomized crossover trial. Ann Intern Med. 132(7):538-46. ncbi.nlm.nih.gov/pubmed/10744590
*These statements have not been evaluated by the Food and Drug Administration. This is not intended to diagnose, treat, cure, or prevent any disease.