---
Butternut squash au gratin is a great, nutrient-rich side dish option for those who have diabetes. This recipe uses garlic-infused oil, Parmesan cheese and breadcrumbs for the crispy topping.
Recipe:
Butternut Squash au Gratin
---
Serving size: 209g
Servings per recipe: 6
---
1 Butternut squash (2 1/2 lb)
¼ Cups walnut oil
2 Large cloves garlic, finely chopped
¼ Cup breadcrumbs (whole wheat if possible)
⅓ Cup Parmesan cheese, grated
¼ Tsp. salt
¼ Cup fresh herbs (such as parsley, sage or thyme) chopped
Directions
Heat oven to 375 degrees Fahrenheit. Spray 13x9-inch (3-quart) glass baking dish with cooking spray. Peel, halve lengthwise and deseed squash; cut into ½ -inch-thick slices. Arrange with slices overlapping slightly in baking dish.
In a two-quart saucepan, heat walnut oil over medium heat. Add garlic; cook two to three minutes, stirring frequently, until garlic is soft and fragrant and oil is infused with garlic flavor.
In a small bowl, mix breadcrumbs, salt, cheese and one tablespoon of the oil-garlic mixture. Brush squash slices with remaining oil-garlic mixture. Sprinkle with bread crumb mixture. Bake uncovered 30 to 40 minutes or until squash is tender when pierced with fork. Increase oven temperature to 425 degrees Fahrenheit; bake five minutes longer or until lightly browned. Before serving, sprinkle parsley over top.
Nutrition Facts
Serving size:
| | |
| --- | --- |
| Calories | 200 |
| Total Fat | 11g |
| Saturated Fat | 1.5g |
| Trans Fat | 0g |
| Cholesterol | 5mg |
| Sodium | 170mg |
| Total Carbohydrate | 25g |
| Dietary Fiber | 4g |
| Total Sugars | 4g |
| | Includes 0g Added Sugars |
| Protein | 4g |
| Vitamin D | 0mcg |
| Calcium | 157mg |
| Iron | 2mg |
| Potassium | 681mg |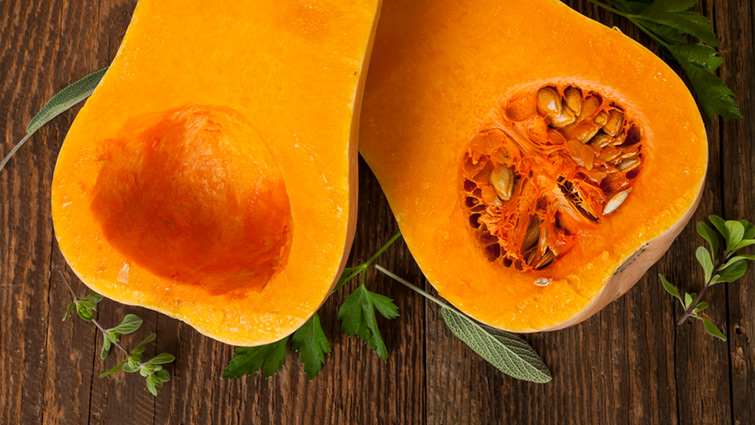 Star Ingredient:
Butternut Squash Contain:
Manganese*
What is manganese? A trace mineral essential for the body to metabolize fats and carbohydrates. In the body, it is found mostly in the bones and glands and is a cofactor for many enzymes, helping to facilitate dozens of metabolic processes. Manganese requirements are low, and plant foods such as nuts, whole grains, and green leafy vegetables contain significant amounts of this trace mineral. Deficiencies are therefore unlikely.
Vitamin A*
When most people think of vitamin A, they think of their eyes. When vitamin A is lacking, the eye has difficulty adapting to changing light levels. Vitamin A is a versatile vitamin that also is involved with protein synthesis, reproduction and growth. The role that vitamin A plays in vision is undeniably important, but only one-thousandth of the body's vitamin A is in the retina. Much more is in the skin and the linings of organs, where it participates in protein synthesis and cell differentiation.
Vitamin C*
Did you know the human body does not have the ability to produce vitamin C on its own? That's why it's so important to make sure we are eating a wide variety of foods with Vitamin C. This vital vitamin is not only useful to help our bodies fight off the common cold, but it's necessary for the absorption of iron and very important for our connective tissues. Connective tissues are what keep our skin firm and our muscles strong. Because vitamin C supports our connective tissues, it is also useful in speeding up the healing process. If you have a wound, you might want to consider increasing the intake of foods higher in vitamin C.
Trivia: Cats and dogs can make vitamin C therefore they don't need fruits and vegetables.
*These statements have not been evaluated by the Food and Drug Administration. This is not intended to diagnose, treat, cure, or prevent any disease.