---
This is the vegetarian linguine you've been looking for, with broccoli, cherry tomatoes and plenty of Parmesan. Lemon and garlic round out the flavors.
Recipe:
Broccoli Pesto Linguini
---
Serving size: 360g
Servings per recipe: 4
---
⅓ Cup walnuts, raw
¼ Cup halved walnuts, toasted
½ Pound broccoli
1 Garlic clove, peeled
Juice of half a lemon
Pinch of kosher salt
¼ Cup extra virgin olive oil
¼ Cup grated Parmesan cheese
1 Pound linguine
Roasted Garlic Cherry Tomatoes
2 10-ounce containers cherry tomatoes, halved
5-6 Garlic cloves, minced
1-2 Tbsp. olive oil
1/4 Tsp. kosher salt
Directions
Pasta
Bring a large pot of generously salted water to a boil. Add broccoli to boiling water and boil for two to three minutes. Pour into to an ice bath and drain again; this will slightly cook the vegetable while keeping its color (this process is called "shocking"). Add clove of garlic to food processor and mince. Add the ⅓ cup raw walnuts and pulse until fine, scraping the walnuts from the edges of the bowl. Add the broccoli, lemon juice, and salt, processing until fine. While processing, slowly add the olive oil. Scrape down the bowl and add Parmesan cheese and process until combined. Cook linguini according to package instructions. Combine pesto and linguini in a large bowl and serve. Garnish with additional toasted walnuts, and roasted tomatoes.
Roasted Garlic Cherry Tomatoes
In a medium bowl, toss halved tomatoes with olive oil, garlic, salt and pepper. Transfer to a baking sheet and spread out on to an even layer. Bake for 20 to 25 minutes at 375 degrees until soft and fragrant.
Nutrition Facts
Serving size:
| | |
| --- | --- |
| Calories | 760 |
| Total Fat | 34g |
| Saturated Fat | 5g |
| Trans Fat | 0g |
| Cholesterol | 5mg |
| Sodium | 360mg |
| Total Carbohydrate | 98g |
| Dietary Fiber | 8g |
| Total Sugars | 8g |
| | Includes 0g Added Sugars |
| Protein | 22g |
| Vitamin D | 0mcg |
| Calcium | 139mg |
| Iron | 5mg |
| Potassium | 803mg |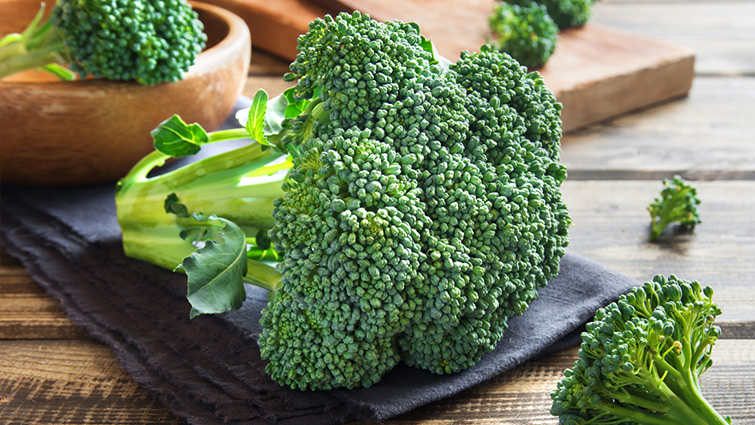 Star Ingredient:
Broccoli Contain:
Vitamin C*
Did you know the human body does not have the ability to produce vitamin C on its own? That's why it's so important to make sure we are eating a wide variety of foods with Vitamin C. This vital vitamin is not only useful to help our bodies fight off the common cold, but it's necessary for the absorption of iron and very important for our connective tissues. Connective tissues are what keep our skin firm and our muscles strong. Because vitamin C supports our connective tissues, it is also useful in speeding up the healing process. If you have a wound, you might want to consider increasing the intake of foods higher in vitamin C.
Trivia: Cats and dogs can make vitamin C therefore they don't need fruits and vegetables.
Vitamin K*
Vitamin K has long been known for its role in blood clotting. It also participates in the synthesis of several bone proteins. Bacteria in the intestinal track synthesize vitamin K that the body can absorb but people cannot depend on this source alone for vitamin K. Many foods contain ample amounts of vitamin K, notably green leafy vegetables and members of the cabbage family. If you are taking blood-thinning medication, be sure to talk with your Registered Dietitian or Physician about how much vitamin K is safe for you to consume.
Iron*
Iron is a trace mineral most commonly known for maintaining hemoglobin levels. One of the most essential functions of iron is its production of red blood cells which provide oxygen to our tissues. Considering blood oxygenates the brain and iron is carried through the body by blood, iron is directly related to healthy brain function. A well-oxygenated body can lead to a feeling of well-being. Interestingly, vitamin C and iron consumed at the same time may increase the absorption of iron.
Trivia: Only carbohydrate, protein and fat supply energy to the body.
*These statements have not been evaluated by the Food and Drug Administration. This is not intended to diagnose, treat, cure, or prevent any disease.