---
Moooove over beef! These black bean burgers pack a powerfully tasty protein punch, without all that pesky saturated fat.
Recipe:
The Best Bean Burgers
---
Serving size: 1 patty
Servings per recipe: 4
Prep time: 10 min
Cook time: 10 min
---
4 cups - Black beans cooked (or 2 well drained 16 oz. cans)
1 ea - Green chili pepper, seeds removed
1/4 - Red onion, small
2 cloves - Garlic
1/3 cup - Cilantro
1 tsp - Cumin, ground
1/2 tsp - Chili powder
1 cup - Brown rice, cooked (not instant)
1 cup - Beets, cooked and chopped
1/2 ea - Lime, juiced
1/2 cup - Breadcrumbs
2 ea - Egg, whites
Season to taste
Directions
Set the oven to 400°F. In a food processor, process the chili pepper, onion, and garlic until finely ground. Add one can (drained) or two cups black beans, cilantro, lime juice and spices. Process until mixture holds its form yet is still a bit chunky. Transfer the mixture to a medium sized mixing bowl. Add in the rest of the black beans, egg, bread crumbs, and stir until combined. Form into burger sized patties. Bake at 4000F for 12-15 minutes. OPTIONAL: Serve with our healthier version of steak fries.
Nutrition Facts
Serving size:
| | |
| --- | --- |
| Calories | 490 |
| Carbohydrates | 88g |
| Fiber | 26g |
| Total Fat | 4g |
| Saturated Fat | 1g |
| Monounsaturated Fat | 1g |
| Polyunsaturated Fat | 1g |
| Sodium | 748mg |
| Protein | 29g |
| Sugar | 4g |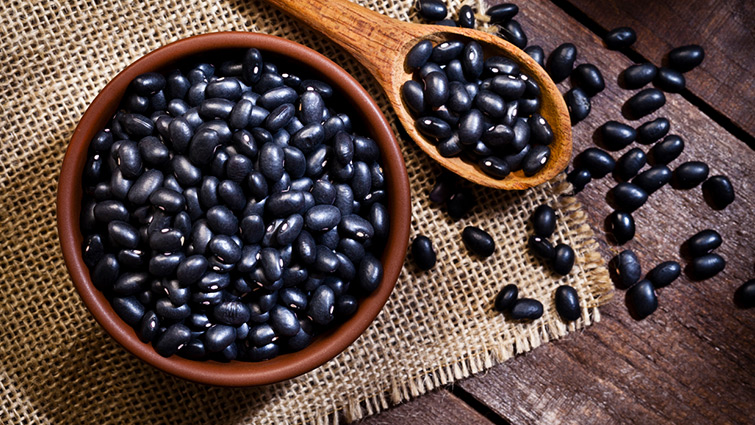 Star Ingredient:
Black Beans Contain:
Iron*
Iron is a trace mineral most commonly known for maintaining hemoglobin levels. One of the most essential functions of iron is its production of red blood cells which provide oxygen to our tissues. Considering blood oxygenates the brain and iron is carried through the body by blood, iron is directly related to healthy brain function. A well-oxygenated body can lead to a feeling of well-being. Interestingly, vitamin C and iron consumed at the same time may increase the absorption of iron.
Trivia: Only carbohydrate, protein and fat supply energy to the body.
Copper*
Although we may only need small amounts of this trace mineral, copper is very important to our overall health. The primary function of copper in the body is to serve as a constituent of enzymes with catalyze the formation of hemoglobin, help manufacture the protein collagen, assist in the healing of wounds and help maintain the sheath around nerve fibers. One of copper's most vital roles is to help cells use iron. Like iron, copper is needed in many reactions related to respiration and energy release. The best food sources include legumes, whole grains, seafood, nuts, and seeds.
Folate*
Did you know folate is part of the B-vitamin family, otherwise known as vitamin B9? It is active in cell division. During periods of active growth and cell division, such as pregnancy and adolescence, folate needs to increase, and deficiency is especially likely. The best food sources of folate are liver, legumes, green leafy vegetables, and beets. Among the fruits, they are oranges, orange juice, and cantaloupe. Heat and oxidation during cooking and storage can destroy up to half the folate in foods.
*These statements have not been evaluated by the Food and Drug Administration. This is not intended to diagnose, treat, cure, or prevent any disease.