Message from the Program Director
The Radiation Medicine Residency Program at Loma Linda University is located in the Medical Center on campus, 60 miles east of Los Angeles. The University is comprised of eight schools and six hospitals, serving as the only Level I trauma center for a region covering more than 25% of California with 1.5 million annual outpatients. Opening in 2021, the newly expanded 690-bed University Medical Center will be the second largest hospital in California.
At Loma Linda, we offer a highly supportive clinical learning environment in 55 accredited programs for over 750 residents and fellows. Our Resident Physician Wellness Programs have received consistently high remarks year after year by ACGME. 
The Department of Radiation Medicine has a long-standing tradition of excellence in training therapists, dosimetrists, clinicians, educators and scientific investigators in the broad field of radiation oncology as well as its many site-specific specialties. Our faculty are universally committed to creating a dynamic academic environment for all of our residents.  Mentorship is highly valued, and emphasis is placed on sustaining an atmosphere where free thinking and intellectual inquiry thrives.  
Our residency program provides a structured tailored rotation schedule covering all aspects of radiation oncology. We take pride in avoiding a "one size fits all" mentality in education and view our residents as individuals with specific interests, talents, and aspirations.  Qualities such as hard work, friendship, respect, and collegiality always take precedent, and we aim to provide the appropriate balance of autonomy and nurturing so our residents can develop into the physician they aspire to be. 
The most important indicator of a training program's success is the achievement of the alumni. Our Department Career Development Focus offers seminars and networking opportunities to guide you through career choices throughout your training. We are very proud of all of our graduates who have pursued a variety of successful career tracks in academic and community practice.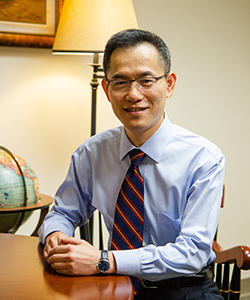 Despite the many challenges in health care during this time of constant change, it is still a joy and a privilege to be a physician. We invite you to apply to our residency program and hope to foster your education and career in radiation oncology.
Gary Yang, M.D.                   
Residency Program Director
---
Program Information
The department of radiation oncology at Loma Linda University offers a four-year fully accredited residency training program. One or two residents are appointed each year through the National Resident Matching Program.
The department is committed to outstanding radiation oncology education. Loma Linda Medical Center is a 797-bed tertiary hospital serving the inland empire and San Bernardino County in both adult and pediatric medicine. Residents will gain extensive training in proton therapy, IMRT, Stereotactic Radiosurgery, SBRT, brachytherapy, as well as other conventional methods. Our highly diverse patient population and assortment of radiation techniques gives our residents a solid clinical background as well as ample research opportunities.
Requirements for admission include a PGY-1 internship at an approved medical institution. Applications are accepted only through the Electronic Residency Application Service (ERAS). Once applications are reviewed, notification of offers for interviews will be distributed via email. Interviews are mandatory and by invitation only.
Thank you for your interest in the Loma Linda University Medical Center Radiation Oncology Residence Program.
Contact Information
If you have additional questions regarding our residency program or want to schedule an academic rotation, please contact our program coordinator.