Welcome to Occupational & Environmental Medicine Residency Program at Loma Linda University! We thank you for your interest in our program and are excited about what we can share with you.
Our residency, established in 2000, matriculates two residents each year. The strength of our residency is in its clinical exposures – one of the strongest in the country. We are pleased to offer a large variety of occupational injury cases and a broad variety of specialty rotations related to occupational medicine. We are housed under the Loma Linda University Department of Preventive Medicine, and are closely connected to the Loma Linda University School of Public Health, thereby giving our residents unique resources for education and collegiality.
The focal point of our residency is the Loma Linda Occupational Medicine Center, where residents receive their core clinical occupational medicine training. Residents also participate in numerous educational opportunities in occupational medicine, toxicology and other related specialty care at the adjacent Jerry Pettis Veterans Administration Hospital. All residents receive a Masters in Public Health at the Loma Linda University School of Public Health.
Medical students interested in a career in Occupational & Environmental Medicine can match straight in to a PGY1 Occupational & Environmental Medicine or Preventive and Occupational Medicine combined position, and transition from there to the Occupational Medicine program.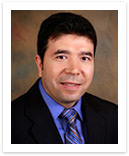 Akbar Sharip, MD, MPH
Program Director
Occupational & Environmental Medicine Residency