What Should I Know About Screening?
Breast cancer is a big deal, but screening shouldn't be. Screenings are simply routine exams and conversations with your provider. They also happen to be the most effective tool to reduce the risk of death from breast cancer.
Know Your Body
It's important to be aware of any changes to your breasts. Regular screening helps you develop breast self-awareness so you can spot changes early and discuss them with your provider.
Learn Your Risks
Most women should get screened every year starting at age 40. But your personal risk factors (such as age, genetics, and lifestyle) determine the right kind of screening and how frequently you need it.
Save Your Life
Because many cases of breast cancer cannot be prevented, early detection is the best way to save lives. Finding breast cancer in its early stages can dramatically improve your chances of survival.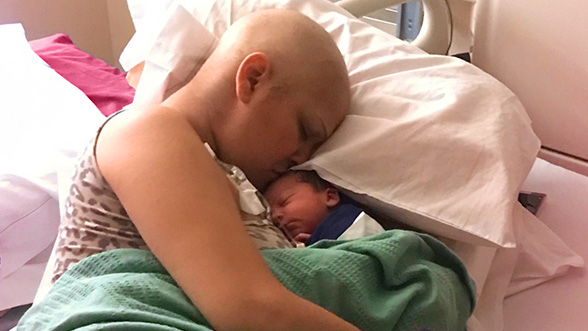 Breast Self-Awareness Saves Lives
"If I had ignored it, I would have been dead."
– Jade Devis
Most breast lumps developed during pregnancy are not cancerous. Jade's lump was. When she first noticed it, she spoke to her provider right away. In the end, Jade's self-awareness and quick action saved both her life and the life of her unborn son, Bradley.

Request an Appointment
We'll reach out to you within 48 hours to answer your questions and help you schedule your screening.

See a Provider
Following insurance approval, you'll see a provider who will help you decide the appropriate type and frequency of exam based on your health.

Get Imaging
Based on your risk factors, you may need one or more imaging exams (such as a mammogram or breast MRI).

Review Your Results
You'll see your primary care provider or visit a referral clinic to go over your screening results and discuss next steps.

Take the Next Step
We'll help you move forward with the care you need, whether that's breast cancer treatment or continued screening.

Practice Breast Self-Awareness
Between regular screenings, keep checking for changes to your breasts and discuss any concerns with your provider.