Firstly, I'd like to thank you for taking the time to look into our neurosurgery residency program. I have been program director of this long-established residency for just over four years, and I'm happy to say that the program only continues to improve with the quality of our staff, neurosurgeons and residents.
Neurosurgery residency is a thrilling and personally rewarding stage of your education and careers. Those formative years will be a lifelong memory and impact your practice and, for the better or for the worse, your personal and family life. It can therefore be a challenging, exhausting, jarring and intimidating undertaking. Obviously a career in neurosurgery shouldn't be undertaken lightly, but we believe that our residency has the perfect balance or education and hands-on training while minimizing the unneeded malignant servitude and unquestioned exhausting hours demanded by some other training programs.
Loma Linda neurosurgery residents enjoy a smaller, collegial environment with daily interactions with their supervising surgeons and senior residents. The environment is not only fun, but fosters close mentorship and instruction that suits the needs of the individual resident. There is no cookbook for making a great neurosurgeon out of a great medical student, and our residency program allows us to develop your strengths and shore-up your weaknesses (everyone has one). You are never an anonymous cog in a big residency machine. "Teamwork" is overused and cliché, but we are too small to tolerate any resident not being part of the team. Lone-wolfs, megalomaniacs and the boastful need not apply.
Our smaller size allows great flexibility to schedule clinical and research electives during your seven years, not only within the facilities at Loma Linda, but also within the greater Southern California area, while still fulfilling your clinical duties and education. Loma Linda University mission-statement includes the support of international mission trips and electives which many of our residents chose to undertake. Regardless of your interests, once you finish our residency, you will be a complete and competent neurosurgeon. Our graduates have had no difficulty going on to pursue subspecialty fellowships, academic positions as well as private or community-based neurosurgery.
We encourage your consideration. If you think you would be a good fit for our team, please apply!
Alexander Zouros MD, FRCSC, FAANS, FAAP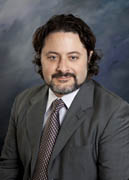 ---
Residency Information
Neurosurgery Research  (Coming Soon)
Applying for Residency
Applications for residency are distributed from the Electronic Residency Application Service (ERAS).
The Match for neurosurgical residency training (PGY-1) is coordinated by the National Residency Matching Program (NRMP). 
For more information, contact:
Erika Matthews
Residency Program Coordinator
Office: 909-558-4417
Fax: 909-558-4825
Email: ematthews@llu.edu