The LAP-BAND© System is an adjustable silicone gastric band designed to help you lose excess body weight, improve weight-related health conditions and enhance quality of life. It reduces stomach capacity and restricts the amount of food that can be consumed at one time.
Other Names
LAP-BAND®
Gastric Banding
Advantages
Relatively simple procedure
No protein-calorie malabsorption
No vitamin or mineral deficiencies
Procedure Details
The LAP-BAND© procedure is performed laparoscopically and does not require stomach cutting and stapling or gastrointestinal re-routing to bypass normal digestion. The LAP-BAND® System was the first adjustable and reversible weight-loss surgery available in the United States and approved for use by the Food and Drug Administration (FDA).
The LAP-BAND© is a silicone ring designed to be placed around the upper part of the stomach and filled with saline on its inner surface. This creates a new, smaller stomach pouch that can hold only a small amount of food, so the food storage area in the stomach is reduced.
When the stomach is smaller, you feel full faster. The food you eat moves more slowly between your upper and lower stomach during digestion. This causes you to eat less and lose weight. The success of this procedure, similar to other bariatric surgeries, depends on your commitment to your goal of long-lasting weight loss.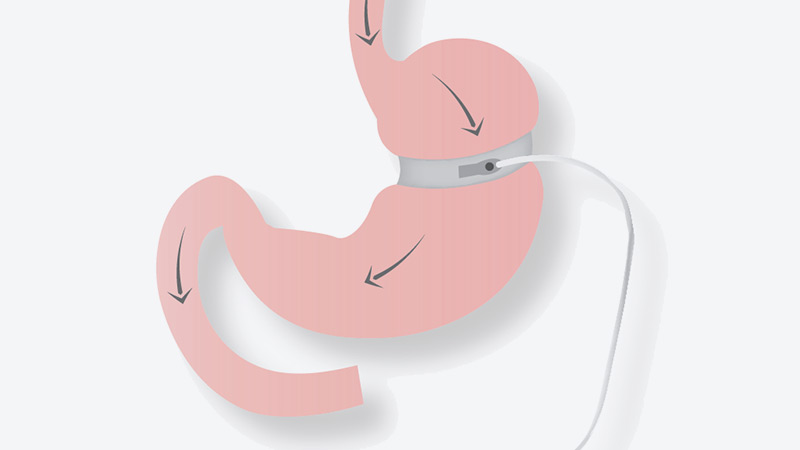 Duration: 40 Minutes
Hospital Stay: 1 Day
*Note that surgery time and hospital stay may vary due to a number of factors.