We are pleased to offer Musculoskeletal Ultrasound as part of our fellowship program.
Our goal in utilizing musculoskeletal ultrasound is to improve patient care. Currently, we use this to complement our physical examination, and in allowing us an objective measure of measuring disease activity in certain patients. We do this not to develop ultrasound technicians, but to develop well-rounded and current clinicians, and also we hope that this serves as a nidus for research and scholarship.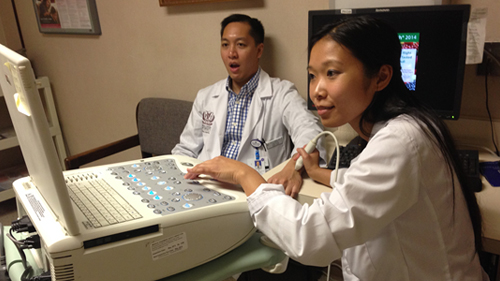 Our curriculum includes:
Joint-based ultrasound teaching sessions to complement our teaching of anatomy and radiology.
We hold ultrasound hands-on teaching sessions at our faculty medical offices. We hope to have this available soon at our other teaching sites.
US teaching is available during fellow continuity clinics at the FMO.
US is also available for inpatient consults, if needed.
We hold about 4-6 times yearly conferences related to ultrasound applications in Rheumatology.
Fellows have the ability if they wish to do self-directed learning and practice.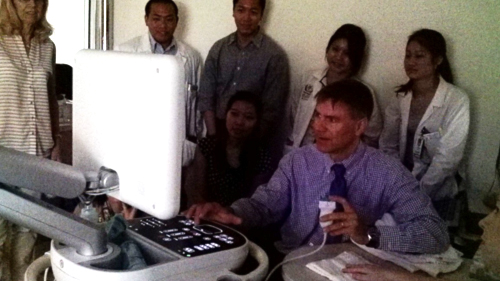 Other highlights of our program:
On select cases, we collaborate with our Musculoskeletal Radiology Faculty for patient management and conferences.
We have two ultrasound machines.
Rheumatology faculty are involved with national programs involved in teaching fellows and professionals ultrasound such as USSONAR, ACR Musculoskeletal Ultrasound Course.
Fellows are encouraged to participate in the USSONAR fellows' training program. This is an online teaching program, enhanced by hands-on work mid-year and an end-of-year hands-on exam and written exam.  Fulfillment of the program is contributory towards certification in Rheumatology Ultrasound (RhUS) by the American College of Rheumatology.
Fellows and faculty have an opportunity to be involved in teaching medical students during the yearly LLU School of Medicine Ultrafest.
Fellows also have the opportunity to learn from one of our Orthopedists utilizing ultrasound in their clinic to evaluate Orthopedic and Sports Medicine dilemmas. 
Please note that musculoskeletal ultrasound is not a required entity in Rheumatology Fellowship Training.