Frequently Asked Questions
What are the perceived strengths of the program?
We are a very strong clinical program, currently and historically. Our fellows are engaged in clinics throughout the week, see a wide variety of pathology, cater to a wide variety of patients of different backgrounds. We have a wide catchment area – including but not limited to residents of Riverside County, San Bernardino county. We also see patients from Los Angeles county, North San Diego, Las Vegas, Napa Valley, and even residents as far as Washington state. Because of the Adventist's mission of service worldwide, we also do see patients who are flown in from Adventist medical centers/clinics from other countries.
We have a wide breadth of resources on hand here on campus. Loma Linda University has a medical school which recently has undergone (and currently still is undergoing) a campus-wide physical transformation with the availability of a simulation center and other state of the art conference facilities.
We also have many close scholarly/research collaborations with various colleagues who are more than willing to invest time and energy in teaching our fellows. 
We also have a wide of variety of learners who rotate through our program and/or clinics, including but not limited to LLU medical students, medical residents, family medicine residents orthopedic residents, preliminary IM-PMNR residents, physician assistant students.  This wide variety of learners allows our fellows and faculty to remain engaged in teaching.
You are probably familiar with the 6 ACGME competencies (PC, MK, SBP, ICS, Prof, PBLI). Here at Loma Linda, we also pride ourselves on emphasizing a concept of  "Wholeness".
What is the board passing rate of your fellows?
Our fellows have consistently done well in our Rheumatology ABIM Specialty boards. All of our fellows who have taken the boards have passed.
Where are your fellows now?
Most of our fellows are in private practice and have thriving practices. Most have settled within the state of California, many of whom are in the surrounding areas of Fontana, Riverside, Palm Springs, and San Bernardino. The national average is about 28% go into academia, while 62% go into private practice.  About 90% of our fellows go in to private practice, with about 20-30% engaging in scholarly activity (teaching, or research) to some degree.
Which hospitals do the fellows rotate in?
Our fellows currently rotate through four hospitals, namely: 1) Loma Linda University Medical Center (LLUMC), 2) Riverside Regional County Medical Center (RCRMC), 3) Loma Linda Veterans Affairs Medical Center (VA), and 4) Arrowhead Regional Medical Center (ARMC). 
We provide inpatient consultation services, and outpatient clinics at each site.
Faculty appointments/assignments vary at each site.
What rotations are available? What is the call schedule like?
The rotations are named mainly after the hospital site where the fellows rotate. We therefore currently have four major rotations, namely: 1) LLUMC Consult; 2) VA hospital consult; 3) RCRMC Consult; 4) ARMC consult.
The LLUMC Consult fellow on call takes night call during the work week (Mon-Thurs PM), and the fellows then set up weekend rotations amongst themselves. The call schedule complies with ACGME recommendations on duty-hour requirements.
We also provide one month-long rotations in Orthopedic Surgery for our first year fellows, and a month-long rotation in Pediatric Rheumatology. Both of these rotations are available here onsite at LLUMC.  We also provide month-long electives in Research, on average about two months in the first year, and 3-4 months in the second year.
Admittedly some consult services are lighter than others, and there may be months where a couple of these may be combined to allow other fellows to their electives, or to go on vacation.  This is actually a do-able situation if need be as historically in the past (prior to July 2014) fellows would do consult services at two hospitals for a six month period. The program was recently revised to allow a wider breadth of experiences for our fellows early on. It is also important to remember that the rotations can vary according to the activities scheduled for each rotation. For example, the ARMC consult fellow also has the opportunity to do (alternating) half-day clinics in Osteoporosis, EMG, Pediatric Rheumatology and Musculoskeletal Radiology. The LLUMC fellow also have the opportunity to do Rheumatology Musculoskeletal Ultrasound Clinic weekly.
Residents on service do help being first call during the week at the LLUMC campus to allow inpatient Rheumatology learning experiences.
Where are your clinics located? What kind of clinics do you have?
As mentioned we do have clinics at all four medical centers.
Fellow continuity clinics are currently held at the Faculty Medical Offices (FMO) on Monday and Wednesday afternoons. First year fellows see on average 3-4 patients, while second years see about 5-6 patients in a half day. We are currently restructuring these clinics to include a Lupus/Vasculitis/Scleroderma clinic on Monday afternoons, and an RA/Spondyloarthropathy clinic on Wednesday afternoons.
The fellows also go to the following clinics depending on the rotation they are on:
There are two half-day VA clinics weekly (Tuesday and Friday mornings).
There are 3 half-day ARMC clinics weekly (Thursday, and Friday afternoon).
There is a 1 half-day RCRMC clinic weekly (Friday afternoon).
Our attendings at the FMO, apart from their General Rheumatology clinics, based on their areas of interest also have subspecialty clinics covering Osteoporosis, Musculoskeletal Ultrasound. As our division grows, the plan is to add on more of these area-specific clinics.
What kind of conferences or other teaching sessions do you have?
We have a wide variety of conferences depending on topic and on format.
Core Curriculum Conferences
These cover a wide variety of topics as required by the ACGME/ACR Curriculum; and may also cover cutting edge updates on a specific topic.
Done by different faculty, occasionally by fellows, do these conferences.
These are held throughout the year, on average about once weekly, although we do try to do more of these during the first half of the year.
We use a variety of techniques including traditional lecture, workshops, simulation using models/ultrasound and educational games.
Core Curriculum Workshops
Covers Musculoskeletal Ultrasound, Joint fluid/Crystal analysis, History taking and physical examination.
On average 8-12 hours of MSUS, 1 hour each for the others.
Musculoskeletal ultrasound workshop done to include correlation with teaching of rheumatologic physical examination and soft tissue disorders.
Evidence-based medicine (EBM) conferences
The key goal of this conference is to explore the basic question of "why we do what we do", and a discussion of the medical literature ("the evidence").
We do encourage the use of the PICO format for these conferences.
This is held twice a month on Wednesday mornings, one done by a fellow, and one spearheaded by our residents on service.
Case Conference
Covers clinical cases seen in clinic/hospital
One hour weekly, Thursday mornings
This conference allows a fellow/resident to present a case using the gradual disclosure method with a supervising attending writing out the details of the case on a board; this is then followed by a Socratic method to further discussion:  Residents on service are then asked on their opinions regarding relevant historical questions to ask, laboratory and imaging needed, differential diagnoses. Further discussion regarding basic and advanced management of the case ensues.
Musculoskeletal Radiology Conference
Covers interpretation of radiology images – plain film and MRI
Done every Wednesday morning, two hours/month
An assigned fellow is asked to read films on patients – cases may be selected by the fellow or may be per request of an attending with a specific clinical question/problem on the case. Dr. Blackburn, one of our MSK radiologists usually supervises this conference with active participation by faculty.
PM&R-Rheumatology Interdisciplinary Conferences
Physical Medicine and Rehabilitation Medicine (PMNR) and Rheumatology recently set up in collaboration with Dr. Mary Kim (PD of LLU's PMNR training program), this conference's goal is to provide meaningful review of rheumatic diseases to all participants, and to explore the various PMNR-related issues that affect our rheumatic diseases. For this year, we have slated the following topics: SLE and Stroke Rehab, and Dermatomyositis and Deconditioning.
Our second year fellows spearhead this conference in collaboration with the chief resident or an assigned resident in PMNR.
Dermatology and Rheumatology Interdisciplinary Conferences
This collaborative conference has been in place for a number of years. It allows faculty, residents and fellows in both divisions to discuss dermatopathology of rheumatic diseases, and specific disease management questions related to diagnostics and treatment. Previously covered topics include SLE-related skin manifestations. Future topics include Psoriasis, Psoriatic arthritis and use of MSUS.
Our first years spearhead the discussion in collaboration with our Dermatology chief resident.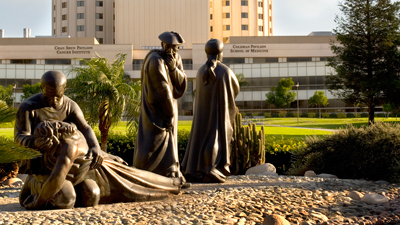 Research Conferences
Basic Science, Immunology
We recently finished a Translational Research Training (TRT) course in collaboration with Dr Kimberly Payne (Head of Translational Research - In Memorium), and faculty from the Division of Neonatology.
This involved our fellows and faculty collaborating with basic/translational immunologists, medical students in the research pathway, and PhD grad students on developing a seed for a research proposal on devising solutions two identified clinical Rheumatologic problems. This is the first year we have done this, and we are looking forward to continuing this endeavor most probably with some changes in the next few years.
Research Design and Methodology Conferences
Spearheaded by Dr. Rambharose, covers topics related to proper study design, and methodology sources of bias.
Covering examples related to specific landmark rheumatology clinical trials.
Journal Club – Research Design Analysis
Analysis of study methodologies; application of analysis of core knowledge regarding research design and methodology (see above)
Usually spearheaded by Dr. Colburn, Dr. Rambharose, fellows present studies/articles
Are fellows also engaged in quality improvement, patient safety programs?
We do have a QI/PS program. Part of our core curriculum conferences cover issues related to medication safety. A sampling includes:
Jeopardy game session covering medication issues related to pregnancy and lactation, side effects of conventional disease modifying antirheumatic drugs (DMARDs) and targeted therapies (biologics, small molecules), pharmacogenetics (Dr Torralba)
Rheumatologic emergencies using small group learning format TBL (Dr. Torralba)
Methotrexate and folic acid/folinic acid pharmacology, treatment strategies and controversies (Dr Langga)
Conferences held by champions of patient safety at LLUMC
Our fellows also engage in our FMO Clinic interdisciplinary clinic meetings – which also involve our nursing, scheduling and administrative staff. We discuss a variety of issues related to our medication monitoring protocols, FDA-related and other political ramifications that impact Rheumatology practice, and billing and coding issues. We do these meetings every 2-3 months.
The fellows also engage in case reviews to analyze practice of medicine, and to identify areas for improvement.
What kind of research/scholarship activities are present in your program? What kind of research have fellows been able to engage in?
The fellows engage in a variety of scholarly activities.  Although we do recognize traditional research (scholarship of discovery), we also encourage our fellows to engage in other types of scholarship such teaching, application and integration (eg. review articles).
Most recent publications and presentations by fellows with faculty include:
Benitez A, Weldon AJ, Tatosyan, Velkuru V, Lee S, Milford TA, Francis OL, Hsu S, Nazeri K, Casiano CM, Schneider R, Gonzalez J, Su RJ, Baez I, Colburn K, Moldovan I, Payne KJ (In Memorium). Differences in mouse and human nonmemory B cell pools. J Immunol. 2014 May 15;192(10):4610-9.
Cabling MG, Weldon A, Payne KJ. (In Memorium) Thymic Stromal Lymphopoietin (TSLP) is elevated in patients with systemic lupus or rheumatoid arthritis. 8th Annual North American Young Rheumatology Investigator Forum, Congress of Clinical Rheumatology. Hilton Sandestin, Destin FL, April 30, 2014. Also presented at the Western Regional Conference of the American Federation of Medical Research, Carmel, CA, Jan 2014.
Sachdeva S, Colburn K. Laboratory Tests in Rheumatology. Primary Care Reports. 2013;19(9):121.
Nguyen C, Tan, T, Katasaros E. Multicentric Reticulohistiocytosis: Treatment with Methotrexate. Journal of Investigative Medicine (Suppl); presented at the Western Regional Conference of the American Federation of Medical Research, Carmel, CA, Jan 2014.
Sherzai D, Rao R, Nguyen C, et al. Lymphatic blockage and severe edema in dermatomyositis: lessons from this case and others. Case Reports in Clinical Pathology. 2014;1(2):12-16.
Gamboa J, Nguyen C, Torralba KD, Baz, S, Cannon G, Kashner TM. Psychological Safety among Rheumatology Fellows. American College of Rheumatology Annual Meeting, Boston, MA, November 17, 2014 (future).
We also have established collaborations with an institution-wide medical education group, spearheaded by Dr. TM Kashner at the CASE Center at the Loma Linda VA; and with our LLU Translational Researchers, spearheaded by Dr. Kimberly Payne (In Memorium).
We have faculty who are engaged in industry-based phase 2-4 clinical trials.  Fellows are involved in the conduct of these trials.
Individual faculty have specific research interests so it might be a good idea to ask them about their experiences and how they have involved fellows in their endeavors.
For our fellows on research month, fellows are asked to develop a plan of action that includes a description of their project, identification of a mentor and a step-by-step explanation of their timelines. This allows fellows to be systematic in their approach. This also allows the program to be explicit about expectations for scholarship.
How are fellows mentored?
Fellows are mentored in a number of ways. They can have a research mentor that guides them on their projects. Fellows are also encouraged to engage in career mentorship sessions with their program director or other chosen faculty depending on their career choices. They also have quarterly meetings with their program director regarding their progress in the program.
What are the other stipends and benefits of being a Loma Linda University Health fellow?
A general description of these are described on the Stipends and Benefits page
For meals, there currently is a stipend of $5.00 for lunch for Monday and Wednesday conferences. We have a policy regarding reimbursements for this stipend that is provided to the fellows upon entering the program.  This meal stipend program is dependent on availability of funding, and the policy is subject to review on a yearly basis.
We also try our best to send all fellows to conferences yearly. There are conferences that may be paid out of their resident educational fund, however, given our proximity to many urban areas that have been many opportunities to avail of local/regional conferences; likewise there have been many opportunities to avail of scholarships to national conferences.