Overview
Rotations are designed to allow early operative experience, progressive surgical responsibilities, adequate research time and development of senior chiefing skills.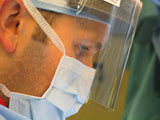 Residents begin their orthopaedic training (PGY-2) at Loma Linda University Medical Center. All operative and outpatient activity (except immediate pre-op and post-op care) are directly supervised by faculty. Emergency department and inpatient consultation services are supervised by the responsible attending within 24 hours, usually during and immediately after morning sign-out rounds following in-house night call, but supervision may be at the time services are provided, as the case dictates. Junior residents are generally paired with senior residents. The junior resident responsibilities include day-to-day management of inpatients, performance of more simple surgeries (at the discretion of the attending staff), and assistance in complex cases.
During PGY-3 and PGY-4 training, residents rotate to satellite training facilities, Arrowhead Regional Medical Center (ARMC) and Veterans Administration Hospital (VAH), where they take home call. Residents learn surgical independence in these settings. Staff surgeons are present and usually supervise as an assistant. Outpatient care is provided by residents as well, with active faculty supervision. Inpatient and emergency care are provided by residents, with attending back-up as necessary. Furthermore, residents are given the opportunity for an elective experience in pediatric orthopaedics in an international setting.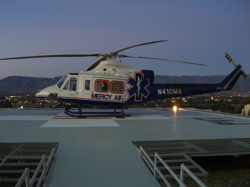 Senior residents (PGY-5) function in a supervisory role at all institutions. At our medical center, a Level-1 Trauma Center, the senior resident is the primary surgeon for nearly all cases, and may act as teaching assistant to the junior resident for simple cases. However, all cases are supervised by attending faculty. Senior residents also participate in teaching at morning sign-out rounds to coordinate patient care after home call. At ARMC and VAH, the senior resident is responsible for assigning surgical cases to junior residents, as appropriate, and also maintains the call schedule and coordinates inpatient and emergency care. Usually, more complex senior-level cases are assigned to the senior residents, while junior residents participate in more simple cases.
Current Rotation and Call Schedules
Yearly rotation
Conference schedules
Call at Loma Linda University Medical Center
Spine call schedule
Hand call schedule