Hasan Syed in Hispaniola
Seeing things in a new perspective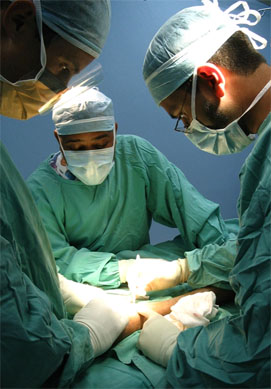 Operating with Dr. Scott Nelson at CURE Hospital, Santo Domingo, Dominican Republic
One of the highlights of my orthopaedic training has been the opportunity to go to the Dominican Republic for a 2½ month rotation as a first year resident in July 2006. I had the opportunity to work with Dr. Scott Nelson, a former graduate of Loma Linda University Orthopaedic Surgery residency program, in a one on one fashion at CURE hospital in Santo Domingo. This trip provided a firsthand eye-opening experience to the vast differences in health care that exist in different parts of the world. There was a combination of orthopaedic problems seen in advanced untreated stages as well as conditions that we only read about in textbooks. In addition, I was lucky enough to go to Haiti for a 1 week medical mission, which gave me a chance to see even more dire general orthopaedic conditions.
For the first two weeks of my stay, Dr. Nelson had to go back to California because his family and in-laws had been in a severe motor vehicle accident. Fortunately everyone survived, although both his mother-in-law and father-in-law required surgical treatment. During this time, I enrolled in a morning Spanish class and attended clinic in the afternoon. I was surprised how the combination allowed me to pick up the language quickly. This made it easier for me to interact with patients and staff at the hospital, the vast majority of whom spoke only Spanish.
I was able to not only work with visiting orthopaedic surgeons on selected subspecialty cases such as adult spine deformity correction but a very unique experience I had was being able to visit the local government hospital to perform intramedullary long bone fracture fixation using the SIGN implant – a low cost instrument and implant set designed with 3rd world conditions in mind. Dr. Nelson returned soon enough and I was able to work with him extensively both in clinic and in the operating room. I was impressed at his ingenuity, dedication and perseverance, all of which translated into phenomenal orthopaedic care in a situation where so much was lacking.
There was a large pediatric population that came in for orthopaedic ailments ranging from Ponsetti clubfoot casting to severe scoliosis deformities. It was amazing the distances that people would travel to be evaluated. In particular, I was impressed by a young man who underwent a Van Ness rotationplasty to convert his ankle into a knee joint after resection of his distal femur for osteogenic sarcoma. This was not only a very involved surgical case but one that required a multi-modality postoperative regimen. To me, this young man was going to have a functional limb to ambulate despite dealing with a condition that was life threatening. Success stories such as these abound in CURE hospital and definitely provide encouragement for all who help to take care of patients.
During this time, I had the privilege to make a 1 week trip to a Haitian government hospital with Dr. Nelson. Here, we were witness to abject poverty and grim orthopaedic situations. There were many otherwise healthy patients with lower extremity fractures that had been laying in skeletal traction for months. To see these patients become excited with the news that they would have surgical treatment that would return them to an ambulatory state was profound. Every surgery was truly life changing for the Haitian patients. It served to remind and reinforce the idea that the ability to dramatically impact patient's lives is the principal remuneration in our field.
The experience I was fortunate enough to have as a resident in the Dominican Republic and Haiti has helped to not only increase my orthopaedic knowledge and skill set but has provided me with a perspective on patient care that is invaluable.