Overview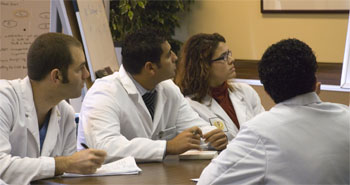 The didactic program encompasses a wide array of conferences, which are moderated by attending faculty. All conferences, with the exception of Grand Rounds, are in a small group interactive discussion format. Conference time is protected, and residents are given time that is free from clinical responsibilities during conference time.
Core Conferences
Core conferences provide the foundation for orthopaedic knowledge. This curriculum includes a structured reading program through the standard orthopaedic texts:
Rockwood and Green's Fractures in Adults
Rockwood and Wilkins' Fractures in Children
Campbell's Operative Orthopaedics
Lovell and Winter's Pediatric Orthopaedics.
Furthermore, Grand Rounds is based on a two-year rotating schedule, which covers all of the major orthopaedic topics.
Additional Conferences We Offer
Miscellaneous conferences are held at various times during the year. Schedules may vary.
Satellite conferences are held at our affiliated training facilities: Arrowhead Regional Medical Center and the Veterans Administration Hospital.
Specialty conferences provide opportunities for detailed discussions in each of the subspecialties.
Resources