Required Courses/Certification
Neonatal Resuscitation and Intubation Course
During the last week in June, all incoming PGY-1 residents as well as current PGY-2 residents will participate in this course.  This course, which is part of the education program of the American Heart Association and the American Academy of Pediatrics, will allow participants to gain the knowledge and skills needed to perform neonatal resuscitation. The Neonatal Resuscitation Program Provider Card will be issued upon successful completion of this course and examination.
Laser Therapy Course
A didactic tutorial and formal hands-on patient teaching of the principles and practice of laser therapy of the lower genital tract is required of all PG-3 and PG-4 residents. This course includes an eight hour lecture tutorial with textbook in addition to a minimum of twelve hours of laser therapy. This course is held every other year and includes a certificate of completion.
Basic and Advanced Cardiac Life Support
All residents need to be certified in Basic and Advanced Cardiac Life Support with current certification maintained throughout the residency. This course is offered on campus by both Life Support Education and the Simulation Center.
Resident Research Involvement
All resident physicians are required to participate in ongoing research activities. PGY-3 residents are required to complete a research project. Research time has been allotted for work on this project. Formal presentation of this research activity is made at Grand Rounds during the latter half of their PGY-4. Departmental awards are given for the best paper and the best presentation with the resident recipient's names attached to a perpetual plaque located in a prominent position in the Department.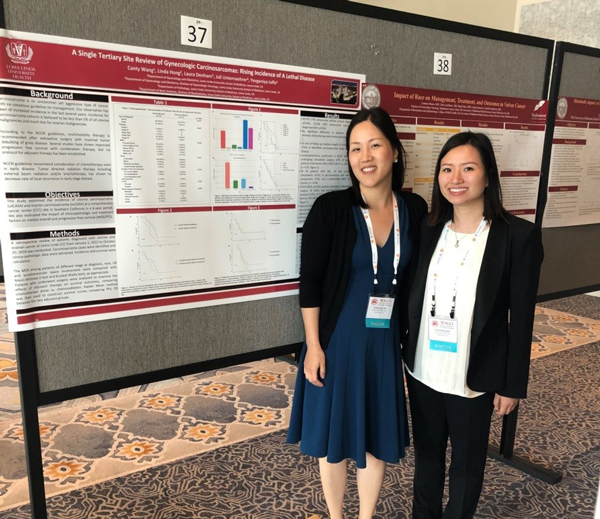 Lecture Series
Grand Rounds: This conference meets weekly with invited guest speakers including many nationally recognized specialists presenting a wide variety of topics.
The Residency Lecture series follows the educational objectives of the Council on Resident Education in Obstetrics and Gynecology and is as follows:
Obstetrics: Lectures conducted by faculty in the Maternal-Fetal Medicine and Generalists' Divisions review all aspects of obstetrics including medical and surgical complications of pregnancy, abnormal labor, and physiology.
Gynecology: These lectures are presented by members of the Gynecology teaching staff and include a complete review of gynecologic conditions as well as peri-operative gynecologic management.  
Reproductive Endocrinology: These lectures are a comprehensive review of endocrinology and infertility, including case reviews.
Oncology: These lectures, conducted by members of the oncology team, review gynecologic oncology, including pathophysiology, mechanism of disease, and treatment of both benign and malignant conditions.
Additional Conferences
 ABOG Journal Club: These series are resident-run with selected articles from ACOG/Green Journal presented on a monthly basis.
Junior Resident Conferences:  Facilitated by two of our senior faculty members, these conferences cover an established reading curriculum as well as the latest ACOG Practice Bulletins and Committee Opinions.  These conferences are held monthly for PGY-1 and PGY-2 residents to establish a foundational medical knowledge.
OB-GYN Statistics Review: This statistical conference is a review of interesting cases over the past few months. All residents are responsible for the conference preparation and presentation.
Perinatal Multidisciplinary Conference: This conference is a multidisciplinary conference attended by student physicians, OB and pediatric residents, perinatologists and neonatologists, as well as sonographers and pediatric surgical specialists. The High Risk OB resident, in conjunction with the Chief, coordinates and presents current cases posing diagnostic or management challenges.
GYN ONC Tumor Board: This is a case presentation conference of GYN oncology cases chaired by one of the GYN oncology faculty and the PG-4 resident on the oncology service.
OB-GYN QI: This conference meets quarterly and covers patient complications and adverse outcomes.
Mini-Conferences: Meets monthly. Reviews abnormal uterine bleeding cases and educates on gynecologic management and care.
CREST Research Conferences: This conference discusses clinical research, statistics, and epidemiology training. It is designed to teach research methodology, as well as ensure residents are actively engaged in producing high quality research.
Simulation Sessions
Obstetrics simulation sessions are held once per month for residents on the Obstetrics services, and review management of obstetric emergencies in a multidisciplinary setting. 
Gynecology simulation sessions are held monthly to facilitate development of minimally invasive surgery skills and are attended by the Gynecology service team members.  Also included in simulation training are robotic surgery simulation sessions and required online modules.  These are completed over a four-year period with the goal of residents receiving da Vinci Residency Training Equivalency Certification by the completion of residency.