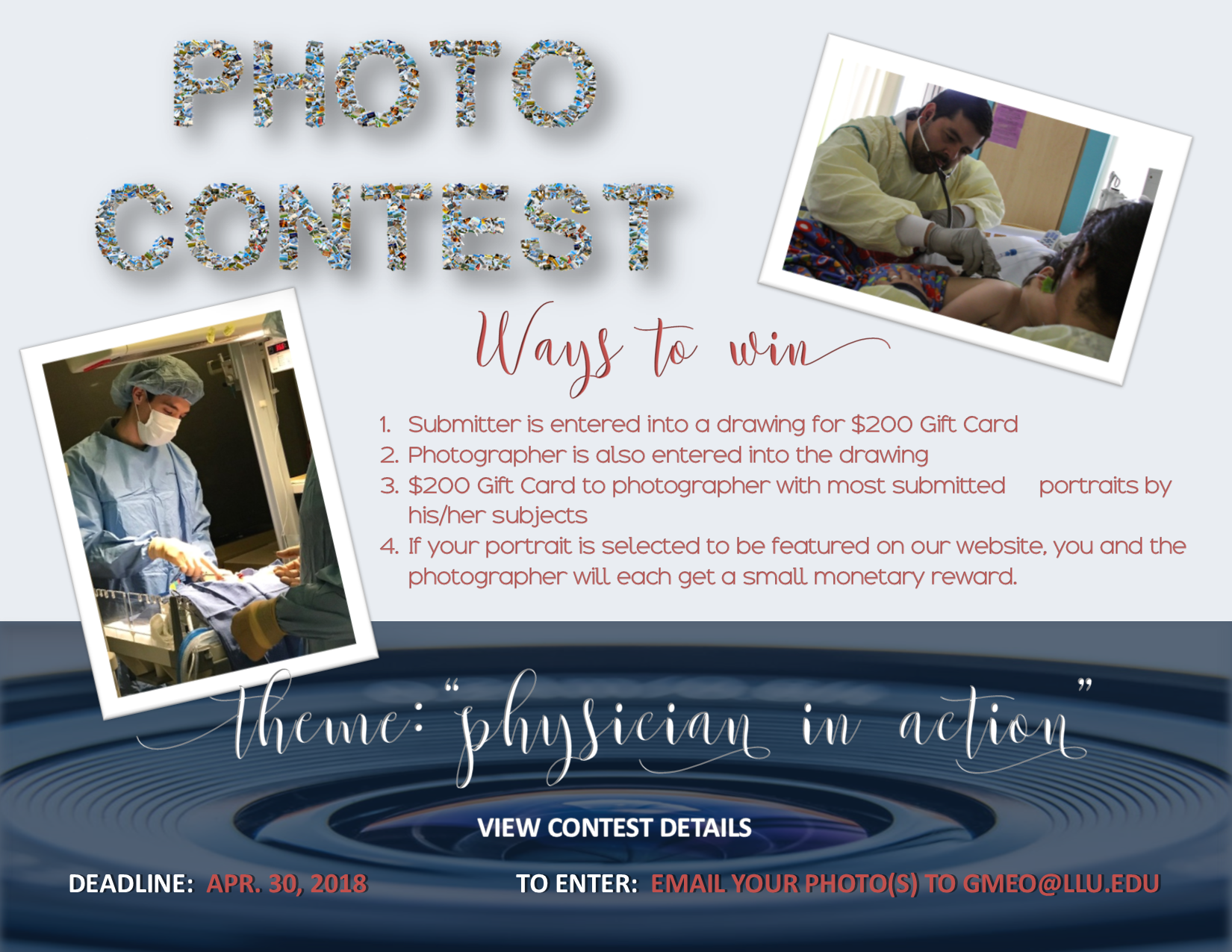 Each of us physician pledges to honor our teachers. To remind us of that promise, we encourage you to thank someone in your life (your mother, father, relative, or mentor) and send them a portrait of you engaged in the practice of medicine. Your mother (or other people significant in your life) has pictures of you graduating from medical school or perhaps at a white coat ceremony, but they probably do not have one of you practicing medicine.
Trust me, this would be meaningful for them. How do I know? Last year, Dr. Adrian Lavery sent me a picture of my son doing a procedure.
Yes, you do not need the GMEO to send your mother a picture. That would be fine with us. However, we also know you have many pressing obligations. So, we are offering a small incentive to nudge you.
To Enter:  Submit entries via email to gmeo@llu.edu
Submission Deadline:  April 30, 2018
Process:
Get someone to take a picture of you in action as a physician. No selfies for this contest.  Please adhere to LLUMC policies - E-12 'Information Classification and Protection, Section D (4) and LLUMC A-22 Photography, Videography, and Audio Recording.


 The picture must NOT include identifiable patients or patient's personal health information. (See the picture of Dr. Silva as an example.)
 The picture must comport with physician professionalism.
 There should not be other employees or visitors identifiable in the picture.
 You should be doing something as a physician, not posed staring at the camera like you would be in a selfie. This might involve working at a computer or peering into a microscope.  And, as much as we love the pictures of a resident riding the waves that decorate the resident's lounge, it should be practicing medicine.

 Pick a picture you want to send to your mother and submit via email to gmeo@llu.edu.


 Include your name, program, and the name of the photographer.
Four Ways to Win:
When you submit your favorite picture of you, your name will be entered into a drawing for a $200 Gift Card.
Your photographer will also be entered into the drawing.
In addition, we know that some of you are superlative portrait photographers. We will also give a $200 prize to the photographer who has the most portraits selected by his or her subjects.
Finally, if GMEO selects your portrait to be included on our website (and if you agree to have your portrait used in this manner), you and the photographer will each get a small monetary reward.
Of course, the real winner will be your mother or father.

Daniel Giang, MD
Vice President for Graduate Medical Education