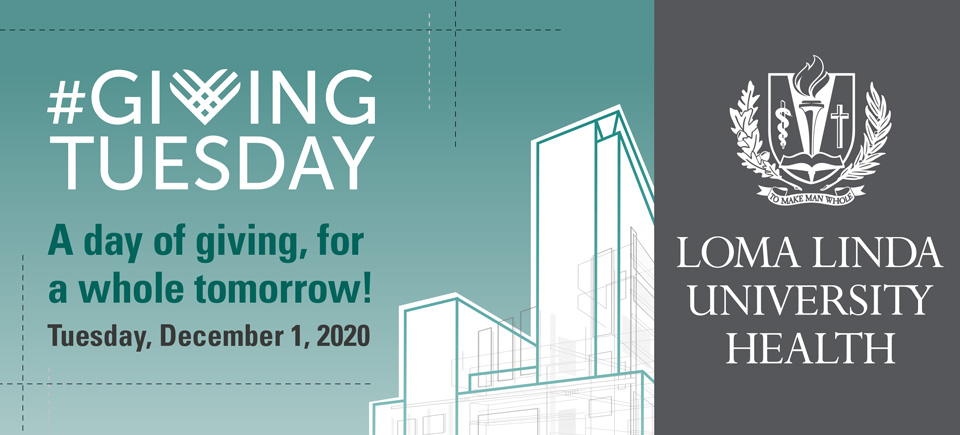 #GivingTuesday 2020
This year we are excited to unite #GivingTuesday with the completion of Vision 2020 – The Campaign for a Whole Tomorrow! Loma Linda University Health is close to the finish line of a historic moment in our region through Vision 2020. Every dollar you donate will be matched up to $50,000 thanks you our very generous donors Johnny and Kimberly Hernarndez!
We invite you to help us finish strong by making a gift toward any of the following Vision 2020 funds:
Healthcare. As we navigate the increased urgency to expand and meet the needs of our community, your support will contribute to the completion of our new hospital towers.
Education. Many students face hardships or financial strain when pursuing education, and scholarships empower students to fulfill their calling. With your generous gifts, we're teaching the healers of tomorrow.
Research. There are constant demands for innovative approaches to emergent and ongoing health challenges through research. Your support can help make the next lifesaving breakthrough in health care.
With your help through the Vision 2020 campaign, the new pediatric and adult towers will serve as a beacon of hope to our region, and our future leaders can confidently approach health care with compassion and excellence amidst a challenging health landscape.
Support Loma Linda University Health on #GivingTuesday – a day of giving, for a whole tomorrow!
Planning to Give On #Givingtuesday? Explore All the Ways to Help
CARES Act Benefits
Any gift, no matter how big or small, can make a huge difference to advance our mission to make man whole today and in 2021. Plus, with the recent passage of the CARES Act, every American can donate up to $300 tax-free, whether or not you itemize deductions. Donate now
Non-Cash Gifts
There are many ways to give back that can benefit you as well! Consider giving a gift from your IRA, transferring stocks, or giving from a Donor Advised Fund. Learn more
Create a Legacy
We know that cash donations might not be right for everyone but giving a gift in your will to create a legacy with Loma Linda is a powerful commitment to our work and mission for generations to come. Learn more
Advocacy
Spread the word about Loma Linda University Health and our work to continue the teaching and healing ministry of Jesus Christ. Our work isn't stopping, and you can help make a difference by sharing a message on Facebook or calling a friend to talk about our cause. Share #GivingTuesday on Facebook
There are so many ways to show your support on #GivingTuesday, so let's make a difference together!